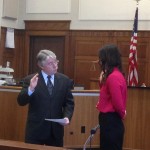 On Friday Indiana Attorney General Greg Zoeller issued the oath of office to Martha A. Showers who was recently appointed as Deputy Attorney General in the Consumer Protection Division.
Showers' swearing-in ceremony was held at the Shelby County Courthouse, and the Hon. Charles D. O'Connor, Jr., Shelby County Circuit Court Judge, joined in the proceedings.
"Martha has been a stand-out addition to our team since she joined the Office of the Attorney General in 2013," Zoeller said. "She demonstrates an impressive commitment to public service and has a strong legal background that will serve her and our state well as Deputy Attorney General. I am excited to welcome her in this new role."
As Deputy Attorney General, Showers will aid in the investigation of consumer complaints and enforcement of Indiana's consumer laws by investigating and litigating violations of deceptive acts and senior consumer financial exploitation.
A Waldron, Ind. native, Showers previously worked for the Office of the Indiana Attorney General as a law clerk for Assistant Attorney General Gary Secrest, a law clerk for the Advisory Division assisting in legal research and writing, and as a member of the 2014 Legislative Team. She originally joined the Office in January 2013.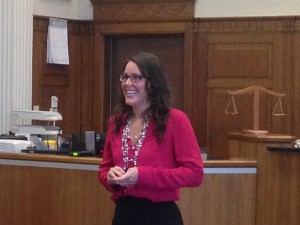 Prior to her work at the Attorney General's Office, Showers served as a Legislative Assistant in the Indiana House of Representatives and as a business development marketing coordinator for RW Armstrong, a full-service global consulting firm.
"My legal career is starting on a high note with appointment as Deputy Attorney General for the state of Indiana," Showers said. "I am honored and humbled to be a part of an organization that helps protect the rights, freedoms and safety of Hoosiers. As a deeply rooted county girl, I hope to make my Shelby County family proud."
Showers is a member of the Indiana State Bar Association, and was admitted to practice in October 2014. Showers earned her law degree from the Indiana University Robert. H. McKinney School of Law. As a law student, she was selected to serve on the Dean's Student Advisory Board and was also elected as commencement speaker. She received her bachelor's degree in political science and speech communications from Miami University of Ohio in 2005.
In the community, Showers volunteers as a judge for Teen Court with Reach for Youth, Inc. as well as with the Neighborhood Christian Legal Clinic, aiding clients of the Victims Justice Program and Special Immigrant Juveniles. She is also a volunteer thespian at Scottish Rite Community Theater.