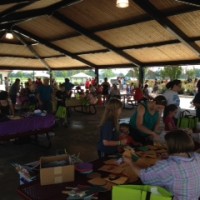 The annual Arts in the Park was held Saturday at Shelbyville's Blue River Memorial Park. Local residents took advantage of a break in the wet weather to enjoy times with their families and fellow artisans.
Committee member Gaye McKenney definitely enjoyed her day.
Christine DeBaun was at the event with her daughter Cora. She explains what she likes and why she keeps coming back.
And you may be asking, what did Cora, DeBaun's daughter enjoy about Arts in the Park?
Those at the event could have painted, made flowers, set up rockets, and more, capped by a free concert that night by Sizzlin' Greg Bacon.