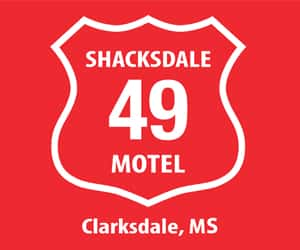 And it is this inheritance that Shacksdale Motel is striving to preserve. While many of the Delta landmarks, from juke joints to cotton gins, remain much the same as they did in the 1920's, the passage of time has taken its toll. Sadly, numerous sites have disappeared all together.
Shacksdale Motel is helping to preserve this rich history by capturing the essence of a sharecropper shack. We take pride in re-using and re-purposing the pieces of the Delta architecture that would be lost to the elements. We have removed the cypress boards from collapsing shacks, pulled the nails, washed and used these planks for our interiors. We have salvaged bead-board and tin, kitchen sinks and claw-foot bathtubs, down to genuine house-blocks supporting our foundations.
In conjunction with our friends at the Shack Up Inn, we have acquired an actual sharecropper shack that was moved to our site from nearby Jonestown, Mississippi. It was the home of Hattie May, a longtime Jonestown resident.
The Mississippi Delta, the people, the culture, the way of life that is the blues. A series of connections brought the Shacksdale Motel group together, and our dream to make Shacksdale a reality bonded us together. We each have Mississippi roots, and building Shacksdale is a homecoming celebration of our heritage and an opportunity to preserve a slice of our inheritance.