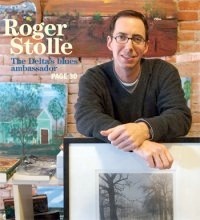 Roger Stolle feel in love with the blues at an early age after listening to Elvis Presley and discovering his influences.  Stolle's passion lead him to Clarksdale, Mississippi in an effort to help preserve this amazing, music, a true all american art- The Blues.  Clarksdale, Mississippi – The Birthplace of the Blues is a town that makes me feel at home, music that is pure and speaks to my soul- you can feel it when you are listening to a performer performing outside of one of the many shops or venues in Clarksdale.  Downtown Clarksdale at times is a hard place to stay on schedule, people are so friendly, people seem like they have know you forever, I realized what "Delta Time" meant.
One shop that I truly love stopping in is Stolle's "Cat Head Delta Blues & Folk Art" it was voted as one of the 17 coolest records stores in America.  Stolle also has produced documentaries including, Hard Times, M for Mississippi, We Juke Up In Here & coming soon Moonshine & Mojo Hands.  Watching these documentaries makes me want to visit Clarksdale and leaves me smiling at the TV.
Check out a clip from "We Juke Up In Here" below:

January 28th-30th  – THE 6th Annual Clarksdale Film Festival will be happening- so many awesome movies and documentaries will be featured at  several  venues in Clarksdale.
Click here for the complete list.
Click on the link below to learn about Roger Stolle's Cat Head Delta Blues & Folk Art Store- Mississippi's world-famous blues store, the upcoming 6th Annual Clarksdale Film Festival and The Juke Joint Festival – with Roger Stolle on Giant 96's "A Trip With Penny Lane"
Check out CAT HEAD delta blues & folk art- click here