I have always been a fan of traveling and experiencing new things. With a 4 year old, that is a little hard to do sometimes. You better believe though that we are ready to do more traveling as soon as he gets older. Ever been to Alaska? I managed to mark that off of my bucket list at the age of 14. As much as I love to travel, we didn't do a whole lot of it in my family growing up. We have taken family vacations to the Smoky Mountains and Gatlinburg, Norfolk, VA to visit my uncle a couple of times, and the hills of West Virginia and Kentucky to ride our family ATVs on trails. I was raised pretty country and to love the outdoors. Camping was our sport, and the outdoors was our playground. I have always had a desire, however, to experience and visit larger cities, beaches, and other places my parents did not have much of an interest in. Joining the crew in Memphis this past week allowed me to mark a place off of my checklist.
Music, food, and the Grizzlies. I learned very quickly that these three things are the heart of Memphis culture. You cannot walk through the town without seeing "Go Grizz!" or anything Grizzly related. Our hotel, DoubleTree by Hilton Downtown Memphis, was only a short walk from Beale Street. It didn't take long after walking out the front door of the hotel before I heard the music from Beale off in the distance.
I have never been a fan of what one would consider blues. I grew up on country music and have branched out to enjoy both country and top 40. After taking a music history class, I quickly learned that a lot of our current music grew from jazz and blues. And after this weekend, I learned that blues has evolved and is completely subjective to the artist. I saw many artists this past week, from solo/duos, to bands. Every kind of instrument from a washboard and cowbell, to a cigar box guitar, to an Appalachian mountain dulcimer, graced the stages this week. The phrase musically immersed would be an understatement to describe this week. I was in awe of how much talent was on one street and how differently each artist interpreted the blues. To see a genre still live overseas internationally was also a really cool experience. One interview Penny had was with a band called Well Bad.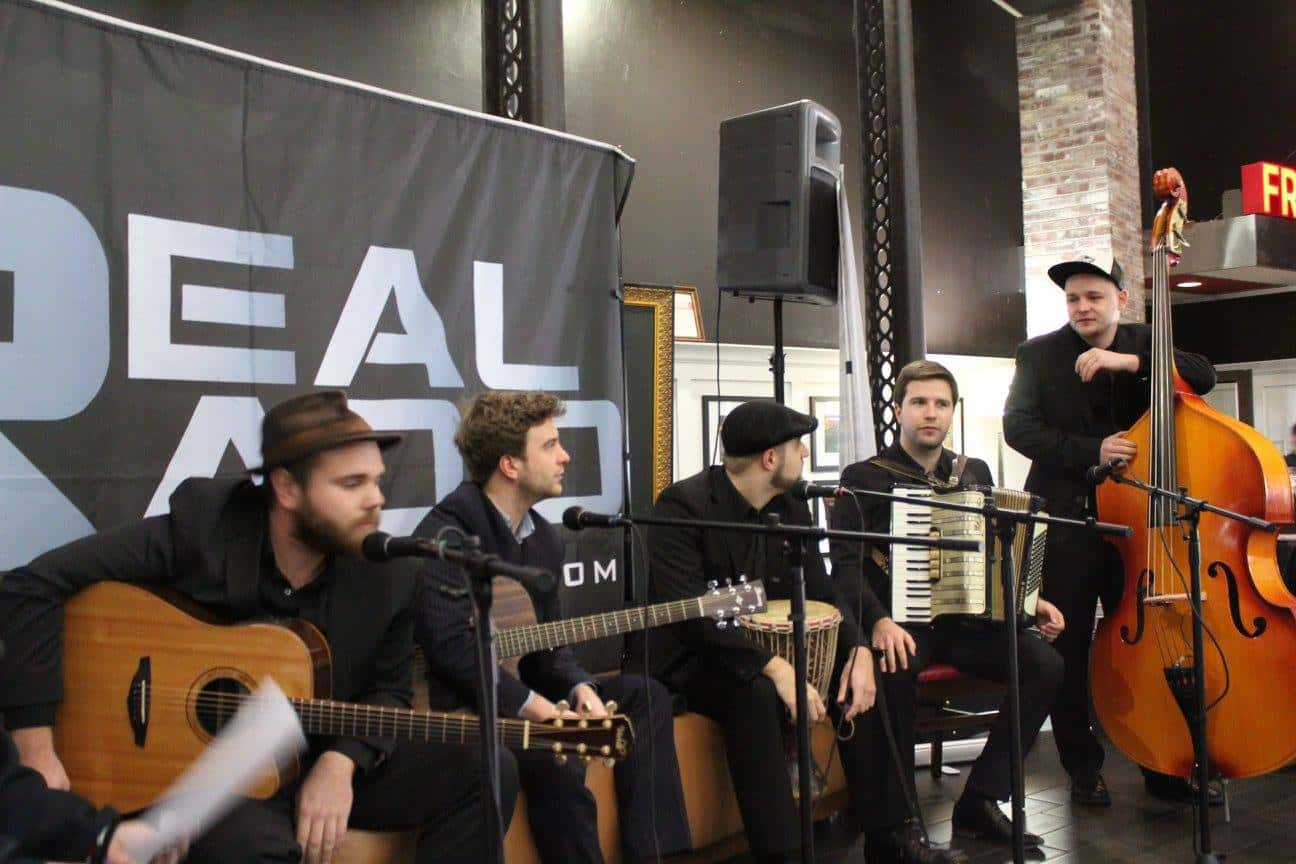 Well Bad was one of the favorites amongst the group. They came all the way to Memphis from Germany. They have a very strong German accent, but their talent is extraordinary. Artists came from all over: Germany, Australia, Israel, France, and I am sure many more.
Tyson and I volunteered during the nights of the quarter finals and were located at People's on Beale. Tyson was the MC and I kept the time.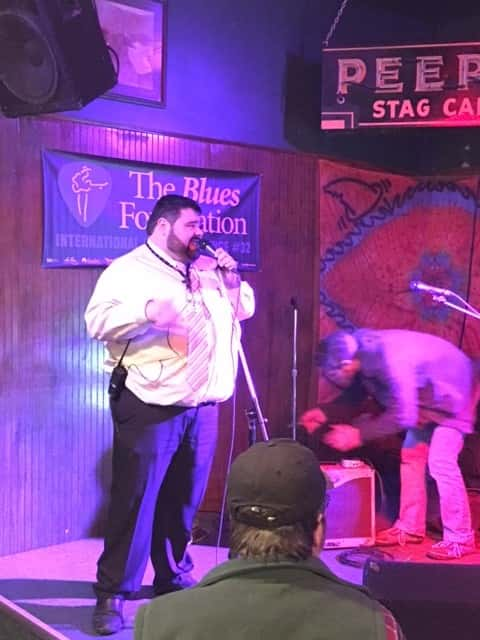 The crowd thought Tyson was hilarious. Unlike the rest of us who know him, who wish he would have just stopped talking (love you sweetheart!). Our venue was pretty cool. People's on Beale is a small billiards and sports bar, across the street from Jerry Lee Lewis and Coyote Ugly. It's owned by a cool guy named Rob, who was also the bartender while we were there. People's was a new venue for this year, and they built their small stage just a week before the festivities. Pizza there was fantastic, and I certainly got my fair share of Angry Orchards and Blue Moon those two evenings.
Food was probably one of my favorite experiences of the week, but that will require a blog all to itself. Many photos were taken and many foods were eaten throughout the week.
For a first visit to Memphis, I would certainly call it an educational experience, both musically and culturally. Memphis is full of rich culture and I would certainly mark it on places to visit in the States. Just as one would want to experience Times Square or Rodeo Drive, everyone should experience Beale Street at least once.
Until next year, downtown Indy will just have to do.