If you don't already know me on a personal level, you will know that Tyson and I share a mutual love for food. I am more open to trying new foods than he is, but he also has an aversion to anything labeled as a vegetable or anything green. Food is one of my favorite things about traveling. There is so many different places to experience in one location, and Memphis was certainly not short of food.
My personal favorite experience this past week was the food. Much like you cannot get Linne's donuts anywhere other than here, you cannot get Gus's fried chicken or the Oshi burger bar anywhere other than Memphis. From the time we arrived Tuesday evening to the time we got back to Indiana, everything we ate was something different every day and something we could not get back home here in Indiana.
One place we visited was called the Oshi Burger Bar. It was a Japanese-inspired burger joint. Completely one-of-a-kind. Don't get me wrong, I have had better burgers (hello Brick burgers!), but the overall atmosphere and concept of this place is what made me fall in love. Chopsticks graced the table (none of us could figure out how you would consume a burger with chopsticks), Saki was a drink option, and the decor resembled that of a modern Japanese eatery. Forms were available on the table for building your own burger, so you would get the exact burger you wanted. I built a burger with provolone cheese, crushed avocado, bacon, chipotle aioli, lettuce, and tomato. Bacon cheddar tater tots Tyson chose were huge, and the beer cheese I ordered with my fries was certainly a great combination with the shoestring fries that were seasoned with garlic.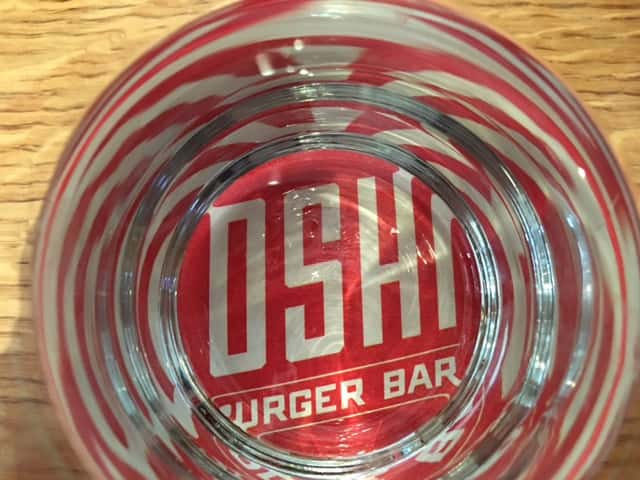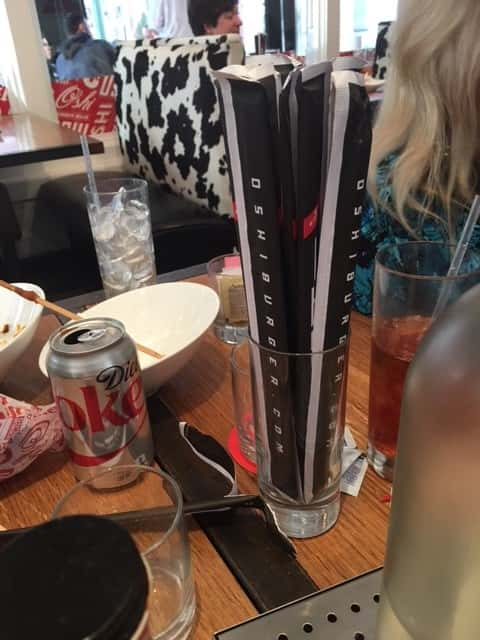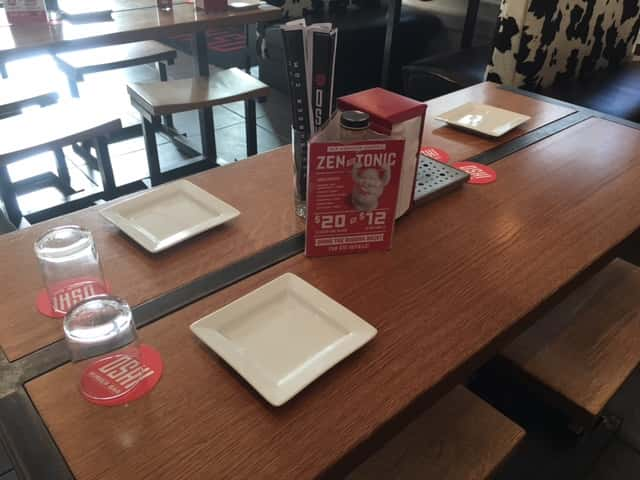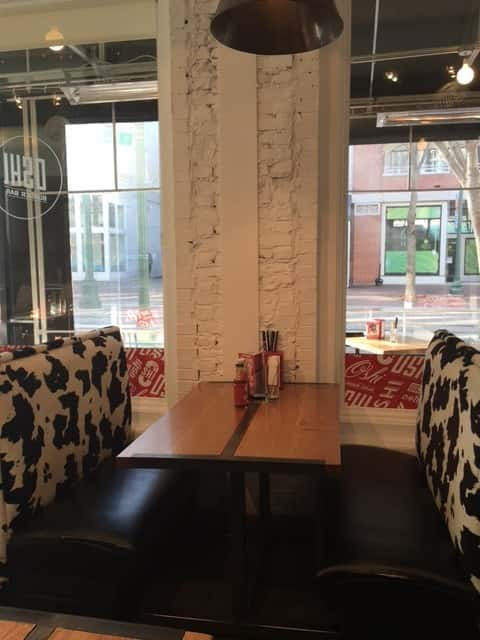 This place was super cool. It is certainly on my go-back-to list, solely for the atmosphere. Ok, maybe for the beer cheese with the fries too. Others may enjoy it and think it is cool too, as a coach from the NBA, a couple others, and Vlade Divac were eating in the screened in sun-room while we were there.
Of course, you cannot go to Memphis and not have Gus's fried chicken. I was new to this joint, but Tyson and Scott talked about it the whole week, so they completely psyched me up to have some amazing fried chicken. The meal came with coleslaw and baked beans. I am not a fan of either, but that meant more room for chicken. Look how massive these breast pieces are!!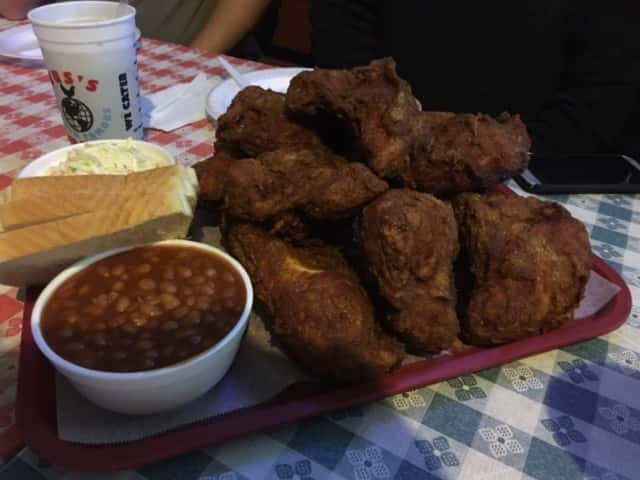 All six of us managed to put away that tray of chicken. Definitely got some spice to it, but fried chicken will never be the same again! The chicken was really moist and had some amazing flavor to it. Despite putting away the chicken, we managed to save some room for dessert. I'm a sucker for pecan pie, and since that was an option, I couldn't say no. So let me tell you, it is really hard to beat a grandmother's cooking and baking. Really hard. My grandmother makes an amazing pecan pie, but Gus's gave her a run for her money. That was by far the BEST slice of pecan pie I have ever had in my life. The center was warm and gooey, exactly how a piece of pie should be. I always eat whipped topping on my pecan pie, but this slice didn't even need it.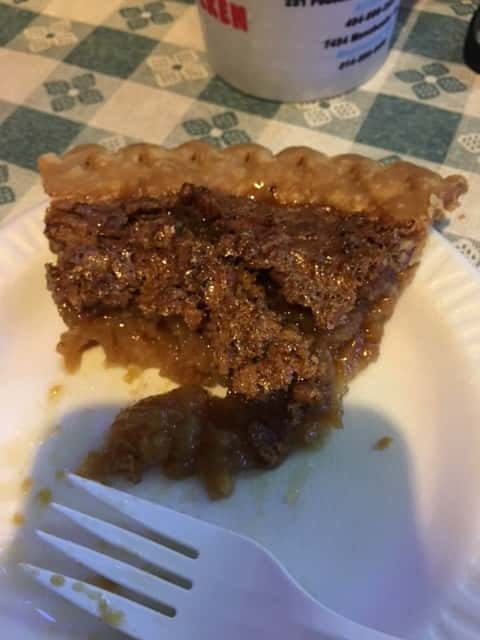 Needless to say, I walked waddled out of the place and used the half a mile or so that it took to walk back to the hotel room from there to walk some of the fullness off. Just looking at that slice of pie has my mouth salivating for more!! Wonder if I can get them to deliver 8 hours away……
One place you must go while in Memphis is Aldo's Pizza Pies. The vodka pie is AMAZING. If you've never had vodka sauce, it is a spicy cheese pasta sauce, and they use it on the pizza instead of the regular tomato sauce. Our bartender, Rob, at People's on Beale is the guy who recommended it to Tyson and I while we were working the venue. I was too busy feeding my face to take any photos of this place, but it was similar to the same kind of style you would see on Mass Ave. in Indy, very modern and cool. The cool thing about this place was everyone could order a single slice and have it modified to fit their tastes. Despite 5 of us having 5 different styles of pizza we wanted, we were all able to order single slices and modify them to how we wanted. I'm a "plain Jane cheese" kind of girl, so the vodka pie, which is just the vodka cheese sauce and cheese, was just fine for me. Tyson modified his pizza to mimic the bbq pork pizza they served. Bbq sauce on pizza is definitely a no-no for me. We also tried out the garlic knots, which I thought were very good and made me miss the knots we get at Tour of Italy.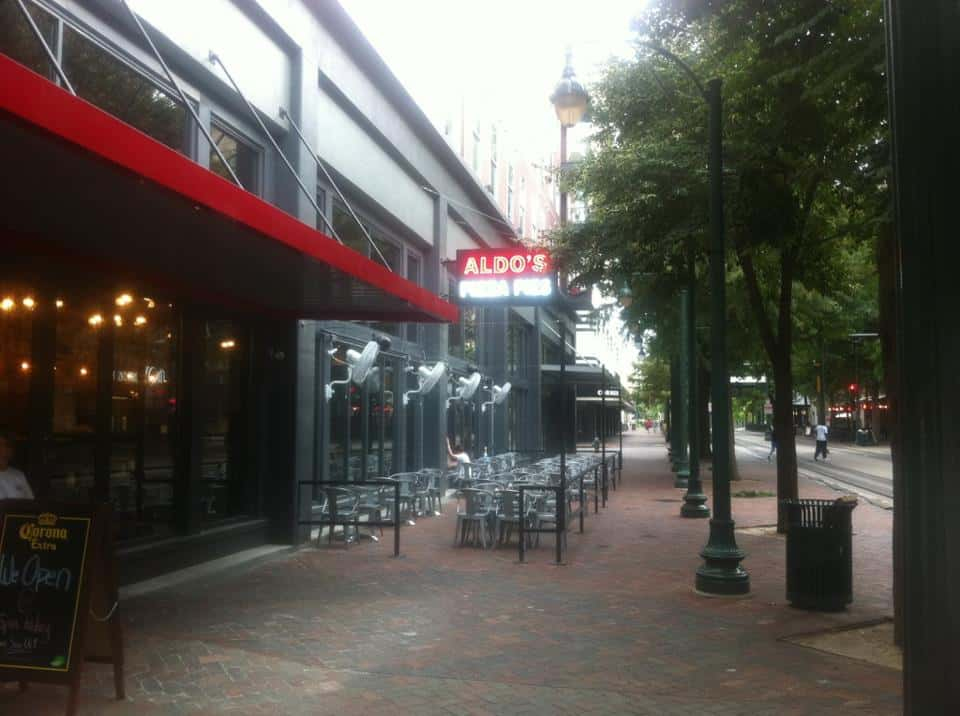 If you have told me I was going to order fried bologna at a restaurant and love it and crave it when I got back, I would have told you you were insane. This place was not in Memphis, but was on the way back. I guess the guys have a tendency of taking the scenic route back to/around Nashville, and we stopped in this quaint little place known as Leiper's Fork, just outside of Nashville. This is where the original Puckett's reigns and for the weather outside that day, it was a magnet for cycle riders enjoying the beautiful day. (It reminded me of Nashville in Brown County, but much more authentic and the shops were on the higher end in the prices. We managed to see a leather bag for $900.) I saw fried bologna on the menu and knew I had to give it a whirl. Why not? How often do you come across a place with fried bologna? I ordered it with lettuce, tomato, and mayo on it, and added mustard at the table, the same way I enjoyed my aunt and grandmother making it for me as a child. I imagined a normal slice or two of bologna. I was not prepared for what would arrive at the table once it was made.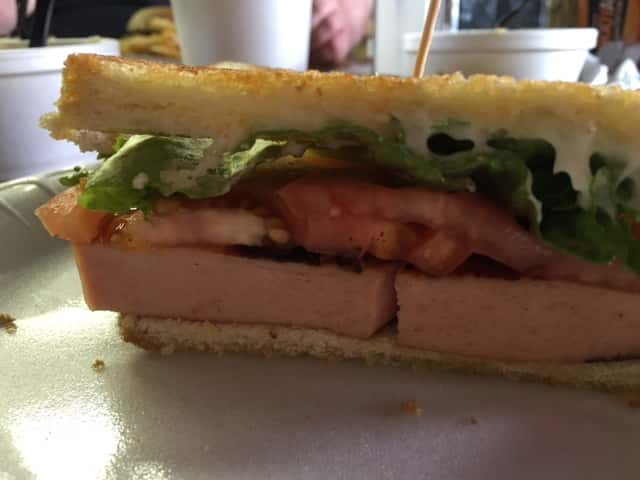 Look at the thickness of that bologna!!! Let me tell you though, it was really good. So good that I actually told Tyson this afternoon after looking at the photo that it made me want one really bad. He then reminded me that we are indulging in Fogo de Chao this evening and asked if I would rather have fried bologna over a filet. He does have a point, however, I'm thinking maybe for lunch tomorrow?
This place reminded me of everything I loved about my childhood. I grew up country. I grew up out in the middle of nowhere and learned to appreciate quaint places such as Puckett's. It was busy because it has become a tourist attraction, but the original building and decor seemed to stay the same. I can really appreciate that. After enjoying the sandwich, the mac n cheese and mashed potatoes seemed to not matter. The mac n cheese was good (y'all know my love for cheese), but that sandwich….oh man. I managed to save room for ice cream after. I can never turn down cookie dough.
Since coming back, food has seemed to be bland and sub par compared to what we had been having for the last week. I can certainly say that I am simply excited to go back for the food. Heck, they could pay me to walk around and do reviews on places and do nothing but eat. Wait…..is that an option? I would like to apply!