Everyone busted out the BBQ weenies, pizza, wings, and chips last night as the nation celebrated Super Bowl 50. From the commercials where the state of mind of the producers was questioned (how can you think of PuppyMonkeyBaby and NOT be on something?), to the cockiness of Superman, Cam Newton, to the star-studded performances between Lady Gaga slaying the national anthem and Beyonce and Bruno Mars joining Coldplay for halftime, last night's Super Bowl 50 was pretty epic.
Let's begin by talking about Lady Gaga, shall we?
So, I like Lady Gaga, I really do. For Top 40 radio. I had doubts when they announced she was performing the national anthem. The only thought running through my mind was "how bad is she going to screw this up?". Celebrities seem to do a pretty fantastic job of butchering the poor "Star Spangled Banner", from taking a 2 minute song to a 10 minutes song by dragging out every note possible (Mariah Carey or Xtina anyone?). She got about halfway through and I realized that she was not destroying this tune at all. As a matter of fact, the one performer no one expected to do so well at the national anthem ended up SLAYING it! Not to mention, she was dressed pretty normal too. No crazy Gaga gear other than the massive platform heels. Her relatively normal dress still did not seem to scathe past social media and all of their jokes. I could not pass this one up: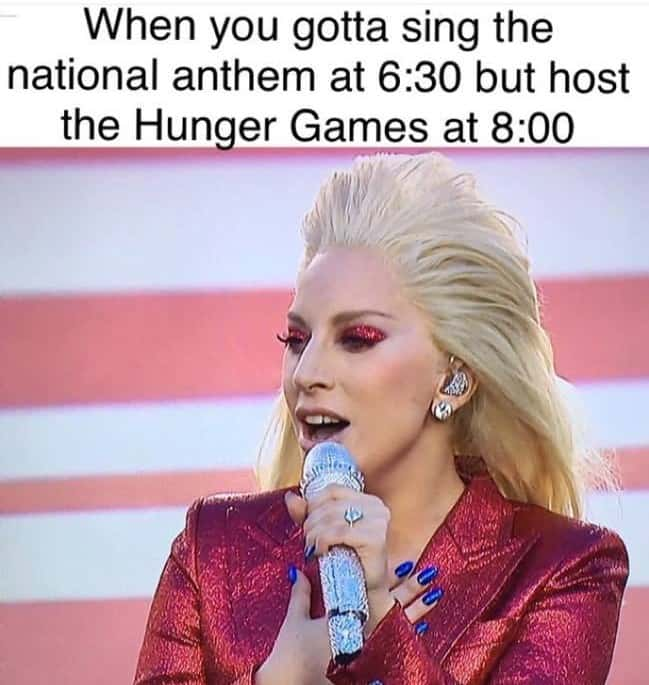 This one took the cake of all of the jokes against Lady Gaga's wardrobe. I don't usually share memes on Facebook, but I could not pass this one up. My only question is what kind of eyeshadow is that? Is that eyeshadow or pure glitter? Can I find that in the nearest Sephora or am I going to have to go on a scavenger hunt? Because I really dig it.
Now for everyone's favorite part of the Super Bowl: Commercials.
Was it just me, or did these commercials make anyone else question the mental state of the producers? From the Doritos commercial that had a fetus fly out of its mother's lady business to chase after a Dorito, to that strangely confusing PuppyMonkeyBaby by Mountain Dew, the commercials from last night made me question everything. Every 30 second commercial for the Super Bowl costs roughly $4.5 million. Did these people really spend $4.5 million on PuppyMonkeyBaby? Well, we are all talking about it, so it clearly wasn't a horrible marketing strategy.
Did you miss those commercials? They can be found here:
Here is one of my favorites for the night: Hyundai with Kevin Hart
Now let's get on to that Pepsi Halftime Show.
When Queen Bey was added to the list, I knew I couldn't miss it. Not a Coldplay fan, but when you add Beyonce, count me in! Did you see all the college aged kids run onto the field at the beginning? How much sugar were they given? Did they provide them all with Red Bull prior to the show?
Once Coldplay began, my instant reaction was "look at this giant hippie fest!". Bright colors, tie-dye, and flowers EVERYWHERE.
Then comes Bruno Mars and his "Uptown Funk".
But then comes the Queen of it all.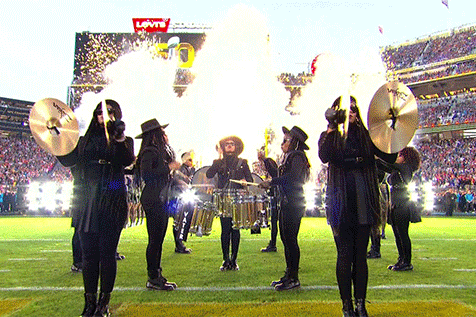 Ok, so I might be slightly biased towards Beyonce. Oh well.
The point is that halftime was on point, but poor Chris Martin was left as Left Shark.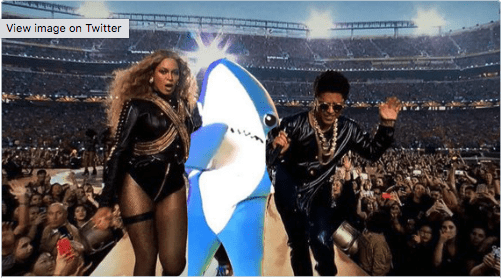 Then came the finale that put conservative panties in a wad over the ending supporting gay marriage. They opened with Lady Gaga as the national anthem singer. This Super Bowl was FOR the gays. Duh.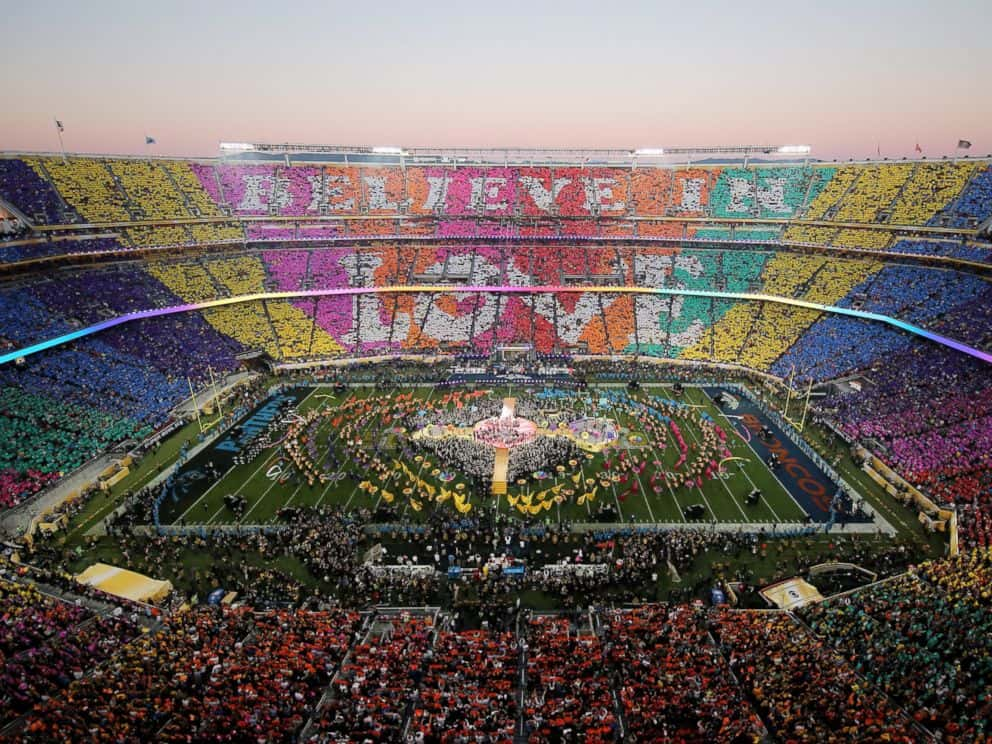 Now down to the football part of the Super Bowl. Can we just talk about how Denver's defense KILLED it? Cam Newton barely got past the Broncos defense. They came on like a freight train.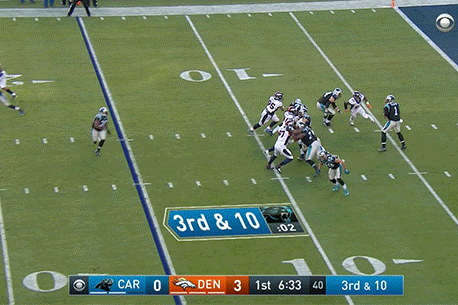 There was this epic sack on Cam Newton that scored the Broncos a touchdown. The Broncos linebacker who made the sack, Von Miller, walked away with the Super Bowl MVP title at the end of the night. Needless to say, I think it was well deserved.
Overall, it was a pretty great almost 4 hours of broadcasting.
They managed to make the big 5-o a memorable one.
Oh yeah. And Peyton's wonderful win at the end of the night was the icing on the cake.