As you can tell from previous blogs, cooking is my thing. I love to cook and bake, and I have recently added some pride and joys to my kitchen. The Pioneer Woman collection (found at Walmart) is my weakness. I have purchased some things with Christmas money, and here lately, I cannot seem to leave the store without adding to the collection. First it was a cheese grater (I needed one, ok?!), then I eventually obtained the utensil jar, salt and pepper shakers, porcelain measuring cup, whisk, can opener, wooden spoon, and basting brush. I have a problem, and I am ok with that. Tyson has not even acknowledged it yet, so if we could keep this problem between us, I would appreciate it. I have seriously considered painting our kitchen to match the collection (I am not kidding). I even bought my mom the basset hound cookie jar for Christmas. I could not pass up the cuteness that reminded me of our family hound that passed away a couple of years ago, Sammy.
These are some of my favorite pieces.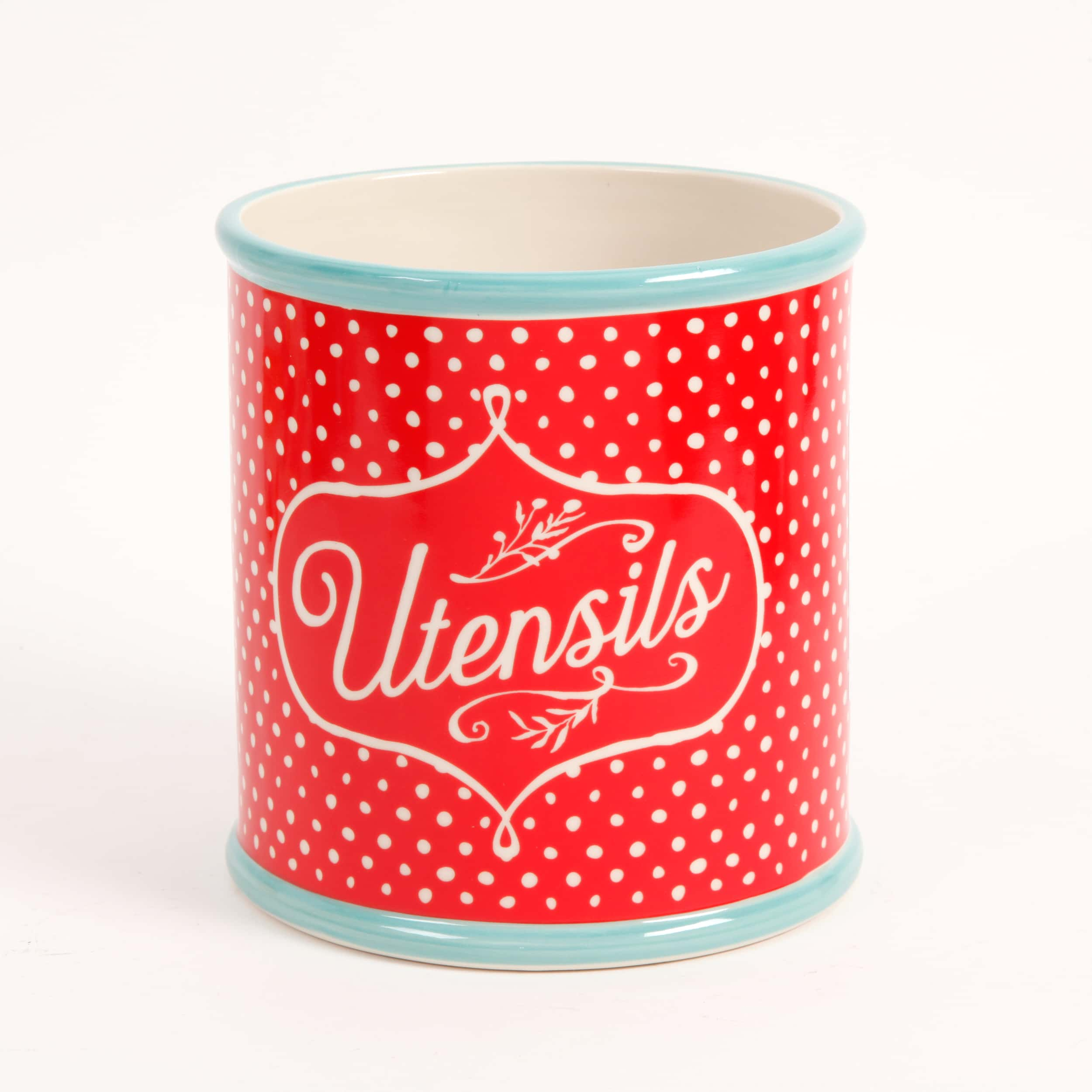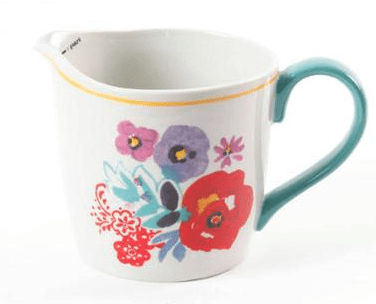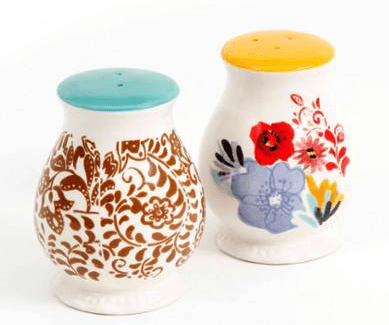 I really want to paint my kitchen that turquoise blue color! Tyson refuses to help me paint, so I may have to throw an offer out there (pizza and beer anyone?). The cooking utensils come with acacia wooden handles and the spatulas and basting brushes come with cute little sayings etched in the wooden handle. I make my own garlic bread at home quite often, so I came home with a basting brush yesterday. Look how adorable this handle is!!

Yes, Ree Drummond. Butter makes a LOT of things better. Healthy? No. Better? Absolutely.
I am doing my best trying to take the time to cook in my kitchen every evening, despite being busy. It is a money saver, and a health saver. Last night, I knew we were all going to be home together in the evening, so I found it the perfect opportunity to do some cooking. If you don't know how Tyson operates, he never has much of an opinion of what he wants to eat until you tell him what he is going to eat. Then he magically has an opinion. I asked the routine question of what he would like for dinner with Pinterest open in front of me. I asked him a couple of times, and both times I received the answer, "food". I took it upon myself to just cook whatever I felt like cooking since he was not of any help. I knew I had a jar of Bertolli vodka sauce in the pantry and figured I could figure something out from there. This is how this conversation went:
Me: "Ok, I'm making penne a la vodka with shrimp, spinach, and mushrooms."
Tyson: "Seriously?! Why can't you make real food?"
Me: "It is real food, and you lost your right to complain when I asked what you wanted and you said 'food'."
(He ended up liking it, so don't let him fool you.)
I found a recipe that I could easily manipulate to match what I had. If you have never taken a recipe as your base and just winged it from there, I highly recommend it. If it comes out fantastic, you are incredibly proud of yourself. Or if you're like me and it doesn't turn out so hot, you have to work it until it does just to prove you are queen of that kitchen.
I only needed to grab a couple of things from the store, including shrimp, mushrooms, spinach, and French bread for garlic bread.
This was seriously the easiest thing.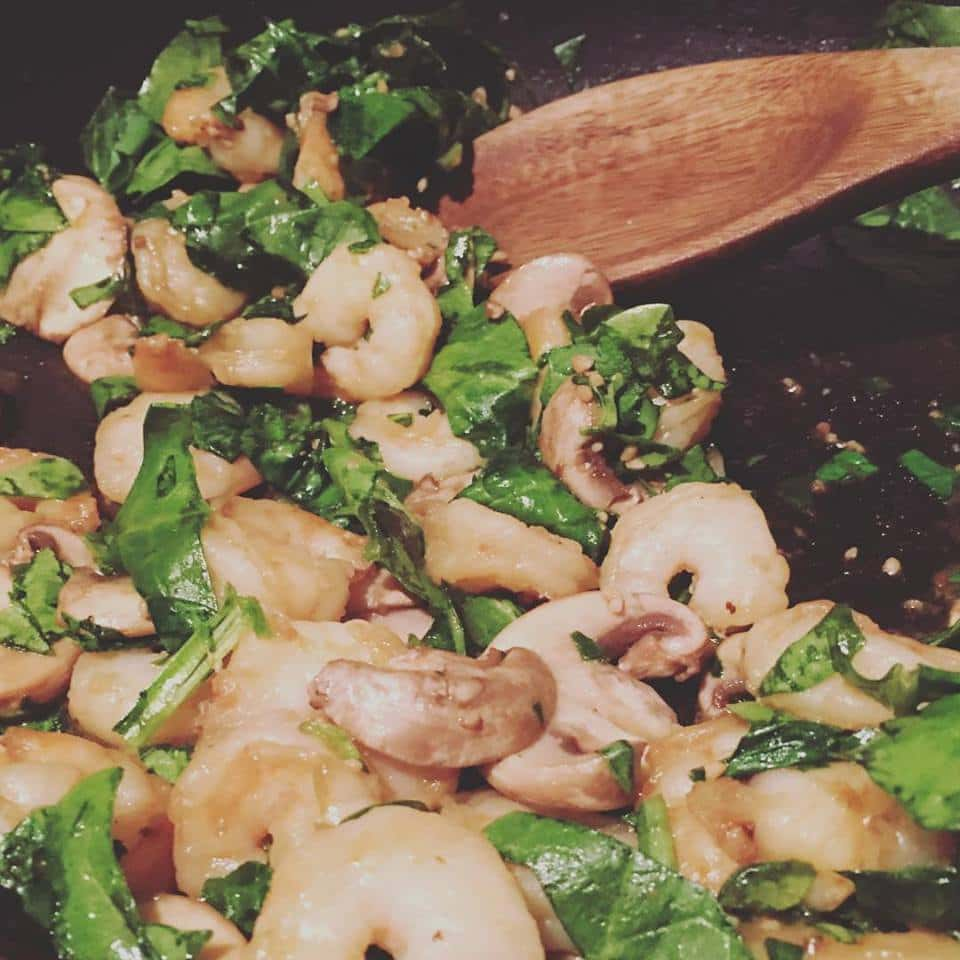 You ready for this? It's just a skillet, with olive oil, minced garlic, thawed shrimp (I removed the tails), sliced mushrooms, and diced spinach. Sauté those together while the penne pasta is boiling under low heat so it doesn't overcook. Penne will take about 10-15 minutes to cook to al dente, so if you don't cook the skillet ingredients under a low temperature, it will burn. I added some crushed red pepper for some heat, but that is totally optional. When the pasta has about 5 minutes left to cook, add the jar of vodka sauce to the skillet and turn the heat up to about medium low so that the sauce simmers with the skillet ingredients. Drain the penne once it is finished cooking and combine the skillet ingredients with the penne. I added some parmesan cheese to the pan too, but of course, that is optional too.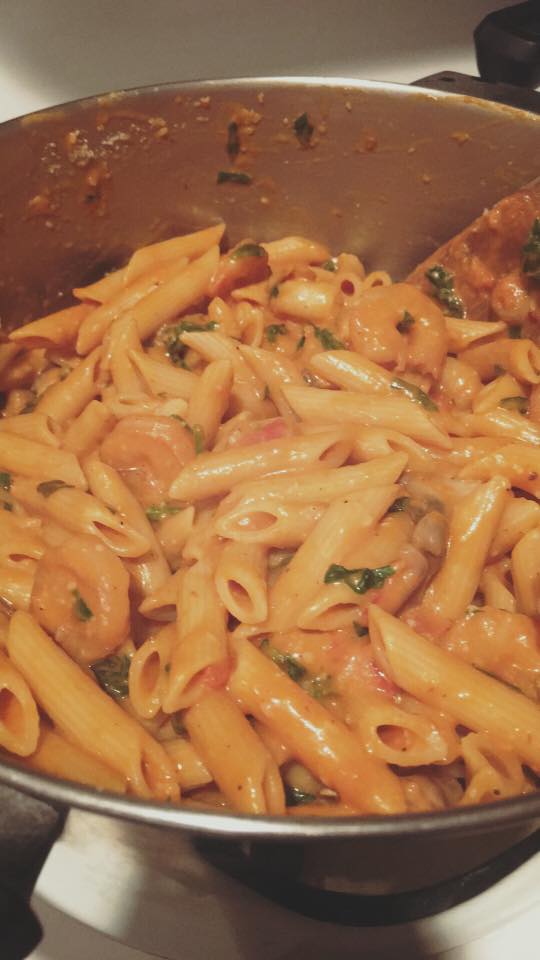 Finished product!! This got a thumbs up from Tyson and he even went back for more!!
If Tyson approves of something, you know it is good (unless it is Fogo de Chao. He just doesn't know good meat). This will be made again in my kitchen. It was quick, easy, and super delicious. I highly recommend trying it.
I shared this on Facebook and my mother said I might just have her talent. Um, excuse me? Say what?
Um. YES!!!! The compliment I've been after for the last almost 26 years of my life! My mother is an amazing cook. Healthy? No. But I think she is why I like 'The Pioneer Woman' on Food Network so much. The cooking is all down home cooking and the same kind of cooking my mom does. My mother and her mother, whom I call Mimi, have both taught me my kitchen skills. Let me tell you, that feeling of accomplishment when you successfully make gravy from scratch for the first time will never be replaced by any other feeling. Knowing that I actually belong to my mother is a sigh of relief. I often questioned if I even did because I lacked her skill in the kitchen.
Whatever you do though, please do not ask me to plant flowers or have a green thumb. It will just be bad for everyone.
My birthday is in April and I'm still missing the batter bowl if someone wants to send me a birthday present 🙂