To say that Tyson and I are a family of procrastinators is an understatement. We have lived in our quaint little house off of Boggstown Road for a year now and are still not 100% moved in. We have totes filled with the past 20 years of each of our lives against a wall just waiting to be put away. Storage is one thing we have to accommodate that our house just does not do the best. Closets are small and any kind of storage space that works for totes is just nonexistent. I have managed to come to a makeshift solution by placing totes under the built in shelves in the laundry room. Only thing is, I have to hang curtains. Our laundry room is the first room you walk in once you enter through the front door. Ideal? Definitely not, but I have to make the best of it.
Next week, my parents will be in from out of town where they live in Arizona. They will be coming to our house for the first time. While I know my parents are far more interested in visiting with and seeing us, it still bothers me that I had still not managed to decorate the house. You are the one to make a house a home, and I feel like I had failed my role as a mother and girlfriend in making our house a home. Tyson hates when I buy decor for the house, but I think he has learned to give it up. We stopped into Trinkets n Threads the other day and I came out with the cutest piece of repurposed wood wall decor! If you have not been in there, you certainly need to do so because everything in there is freakin' adorable and the craftsmanship is incredible! But look at how cute this is!!!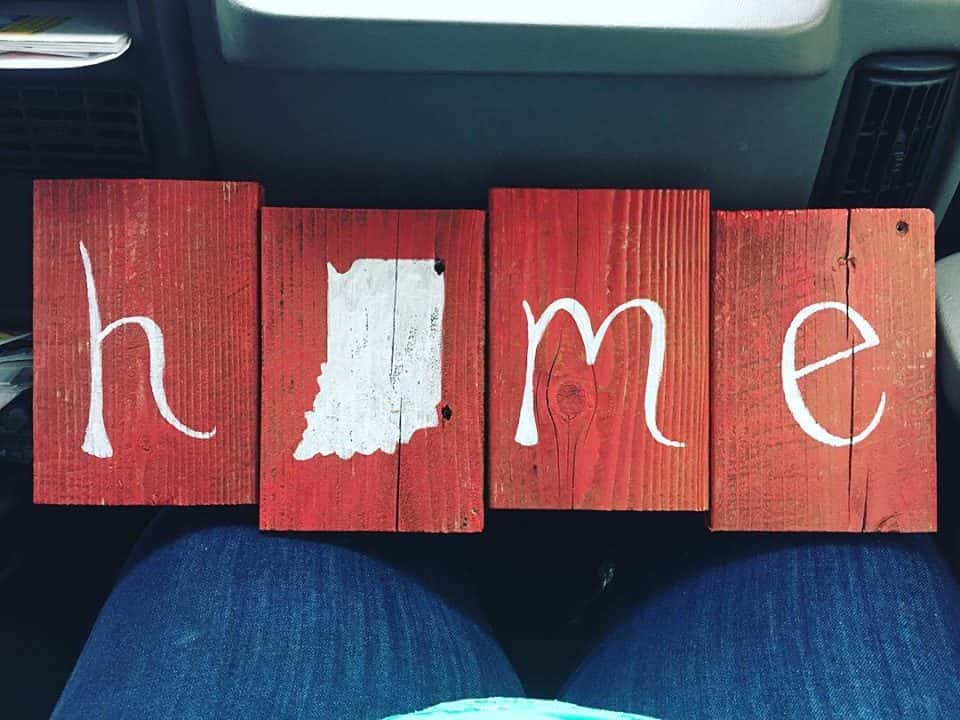 I could NOT pass that up when I saw it! I can certainly say I am related to my mother and her parents when I tell you that I love flea markets! I always find the best things at flea markets. I have made it practice to visit Me & My Sister's Flea Market at least once every one or two weeks. I stopped in there and the US 44 Family Flea Market yesterday and managed to find things for our house in both places.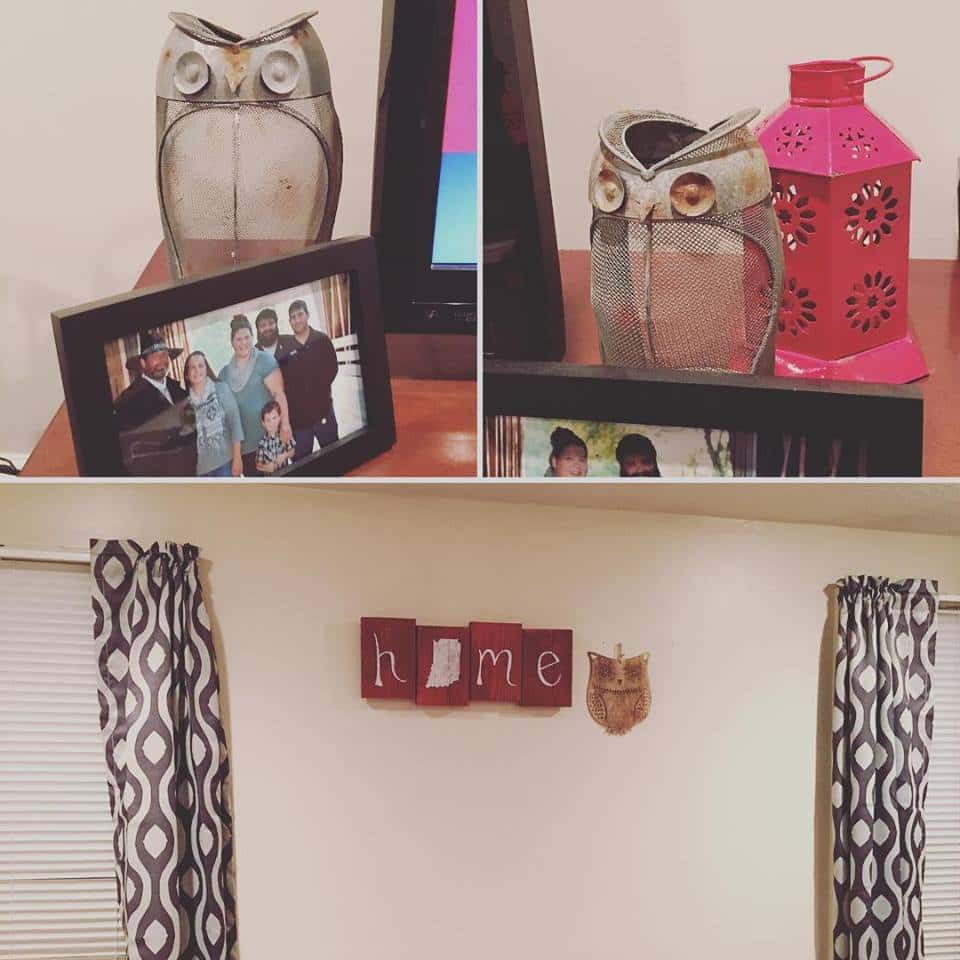 Both of the wire owl candle holders in the top 2 photos were purchased collectively for $1! One dollar scored me both of those beauties at the US 44 Flea Market, along with that gorgeous red lantern. I have a black lantern on our coffee table as well. The die-cut wooden owl beside the "Home" sign in the bottom photo was purchased at Me and My Sisters for $8.99. It's adorable! Our living room actually accidentally ended up with an owl theme. I found a neutral colored placemat with an owl printed on it at Goodwill for 99 cents that ended up on our coffee table underneath the black lantern.
As you can see, I managed to finally purchase and hang some curtains as well. I'm actually pretty proud of myself! I didn't do too shabby on the curtains. I found a pair of panels for $9.99 at Walmart, and purchased two pairs for both windows. I decided to go with grey to keep it relatively neutral. The next thing on my list? Throw pillows and a new bookshelf!
I still have to figure out what I am going to make for the dinner. That is the whole reason of the visit. Not only do I have to show off my skills in keeping a home, but I also have to show off my skills in the kitchen. I still have yet to create the menu for Wednesday evening. My family is not fancy. I've been raised on home cooking and hearty, country-fied foods. I've been scouring the Pioneer Woman website for ideas and concepts. I'm picking up a new kitchen table this evening. I could not be more excited. Our kitchen/dining room area is the strangest space. The table we had to purchase has drop sides because it needs to be compact. I wish we had the space for a large dining room table, but we do not.
In addition to the inside, I am also ready for this weather to finally warm up so we can start going outside again. I love using our grill, I love eating on the patio in the gorgeous weather. I cannot wait to score some tiki torches and have outdoor parties. All the things I have always dreamt of doing in my own grown up house are coming true! Hey. I'm 26 years old, and this is a big adult step for me.
I will certainly update you and let you know if I failed my dinner test with my family miserably or if I passed with flying colors. Right now, I'm not quite sure how it will go.