When you live in your first house that you have made your own, you can't wait to have people over. While I have lived on my own prior to living with Tyson, it is a completely different feeling when you share a home with the person you love and have decided to spend the rest of your life with. We have lived in our home for a year now, and have never really made it a home until recently. The past few weeks I have spent my energy and my bank account on decorating and making our house more "home-y". Needless to say, I have driven Tyson nuts with my ideas and spending habits.
My parents live in Show Low, Arizona, and usually visit us here in Indiana twice a year. When they last announced they were visiting this month, I knew they had to come see our house. I'm almost 26 years old and my parents had never seen the house that Tyson and I call home. Blake also wanted to show off his room and all of his toys. So we prepared for a visit and planned a dinner. Ok, I planned the dinner. Tyson helped prepare for their visit. I was mainly concerned about making the house clean enough.
Then the day came. I stayed home from work to do last minute cleaning and to get the dinner started. The planned menu consisted of pork chops, mashed potatoes, macaroni n cheese, corn, and rolls. I had originally planned to make a new recipe of pork chops, but I felt called to stick to what I know so the meal wouldn't be a complete disaster. These are our favorite pork chops for just any other day, and my family really enjoyed them. So I figured I would share them with you here.
The reason I love this recipe so much is because its relatively cheap, and you will likely have the spices in your cabinet already. It calls for a package of boneless chops. I get these at the store for about $4-5. Depending on the weight, there are about 4 or 5 in a package.
The rub mixture is:
1/4 cup of brown sugar
1/2 tsp of paprika
1/2 tsp of garlic powder
1/2 tsp of salt
1/2 tsp of pepper
Throw those in a bowl and stir until mixed thoroughly. Then just rub the chops down with the mixture. I have personally found, the more you massage the rub into the meat, the juicier they are.
Preheat the oven to 350 degrees (You'll need it after this next step).
Heat 2 tbsp of olive oil in a skillet until hot. Once the oil is hot, plop those bad boys in the skillet and cook on each side for roughly 5 minutes.
Cover a baking sheet with foil and transfer the chops from the skillet to the baking sheet. Place them in the preheated oven for about 5 minutes to make sure they're cooked completely.
Super easy and super cheap recipe. My kind of cooking! My grandma noted to me before dinner was completed that she never really makes pork chops because hers usually turn out dry. I was so happy these held up to my testimony and were as delicious and tender as they always are when I just make them for Tyson and I.
Dinner turned out great, and the company was even better. It was such a full feeling to have so many people I love in one place, the place that I care for myself, eating dinner prepared by me. I successfully made my first dinner for more than Tyson and myself! I successfully fed 7 people. I can check off something new in the "Adulting 101" book.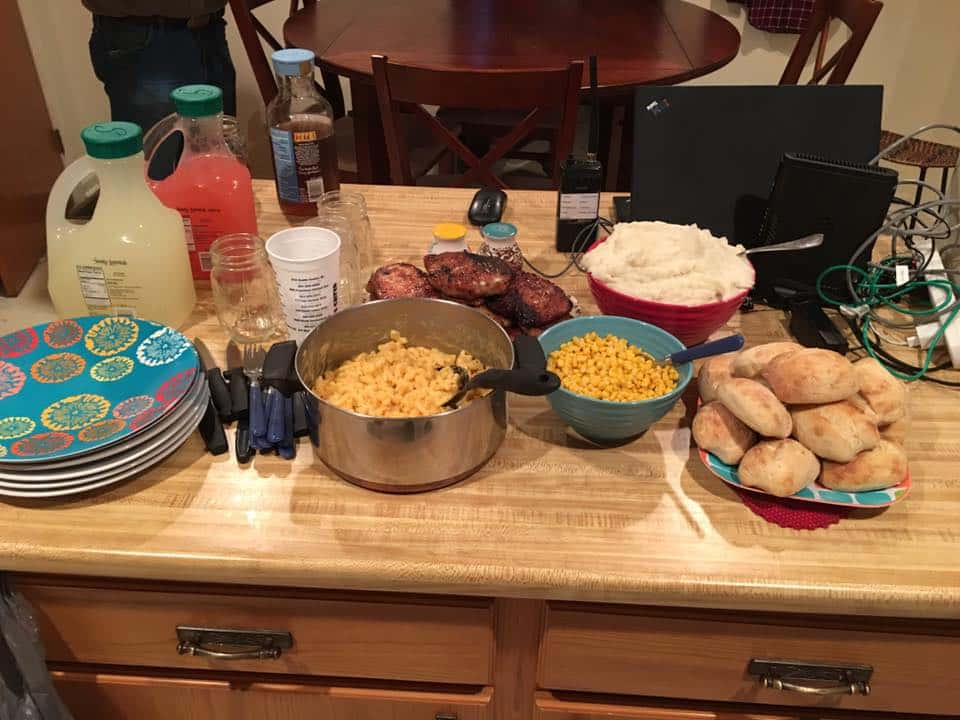 (It would not be our house without Tyson's wires SOMEWHERE in a photo 😉 )