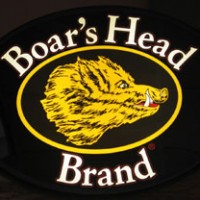 Sarasota, Florida-based Boar's Head Brand®, one of the nation's leading providers of premium delicatessen foods, celebrated the opening of its new 150,000 square foot, state-of-the-art manufacturing facility and R&D center in New Castle, Ind., with a ribbon cutting ceremony.  The new facility, located at 125 East County Road 400 South in New Castle, begins test operations this month, with plans to be fully operational by June 2016.
To commemorate the event, Indiana Lt. Governor Eric Holcomb, Henry County Commissioner Ed Yanos and New Castle Mayor Greg York joined Boar's Head Brand for a special ribbon cutting ceremony taking place at the new facility.

"In Indiana, agriculture means business," said Indiana Lt. Governor Eric Holcomb, who also serves as the state's Secretary of Agriculture. "With Boar's Head Brand opening new operations in New Castle, Indiana's agricultural supply chain continues to build upon its $31 billion impact in our state economy. Hoosier farms feed our state, our nation, and the world. Welcome Boar's Head to our agriculture family."
"We believe Henry County has much to offer especially our Interstate highway access and we are absolutely thrilled that food manufacturing companies like Boar's Head Brand are choosing to locate here," said Ed Yanos, President of the Henry County Board of Commissioners.
"It took us many years and an exhaustive search across the country to find a home for this facility.  From our first visit to Indiana and New Castle, it was apparent that there was something special about this community, and that this was the ideal home for our business," said Michael Martella, Boar's Head Brand President.  "We are proud to have made this investment in New Castle, Henry County and the state of Indiana.  This new facility is an excellent example of our tradition of supporting local communities through job creation and partnerships, and it's the beginning a long-term, cooperative business partnership with Indiana."
Boar's Head has already staffed positions for management and associates; but, still has openings for both.  Interested applicants should apply by visiting the New Castle WorkOne Center or www.boarshead.com/careers.
"Our community is honored to join Boar's Head Brand in their proud tradition of making premium delicatessen products," said New Castle Mayor Greg York. "I am delighted to welcome them to New Castle."
About Boar's Head
Founded in 1905, Boar's Head Brand has upheld a commitment to unwavering standards for quality for over a century, refusing to take shortcuts that compromise the integrity of its products for the sake of convenience or economy. What started with just a few products has grown to over 500, ranging from premium delicatessen meats, cheeses and condiments to an array of Italian delicacies, hummus, and foodservice items. All Boar's Head meats, cheeses, and condiments contain no gluten, artificial colors or flavors, added MSG, fillers, by-products, or trans fat. For more information, visit www.boarshead.com.