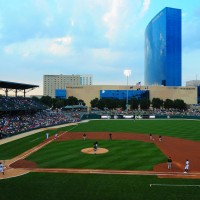 Continuing with the celebration in 2016 of Victory Field's 20th season, the Indianapolis Indians are excited to announce the 12 millionth fan will visit the ballpark on Friday, May 20 when the Tribe hosts the Scranton/Wilkes-Barre Railriders at 7:15 p.m.
The milestone continues to cement Indianapolis' place within Minor League Baseball as one of the hotbeds for tradition and fan loyalty. Among 160 minor league teams, only one has had higher attendance than Victory Field since the ballpark opened on July 11, 1996 (Buffalo Bisons).
"Victory Field's opening 20 years ago was a dream come true, and I believe that two decades later we can say with conviction that it has been a total winning accomplishment for all interested parties – the State of Indiana, City of Indianapolis, hundreds of players who have enjoyed competing in our premier facility, legions of baseball fans and Indians shareholders," said Max Schumacher, Indianapolis Indians President and Chairman of the Board. This year marks his 47th season with the organization.
Prior to Victory Field, the Indians played at Bush Stadium (1931-1996), located on the near West side of Indianapolis on 16th Street. The move downtown ushered in a new era of prosperity for the organization perhaps best illustrated by the jump in attendance. Indians attendance during its 65 years at Bush Stadium totaled 13.1 million. In less than a third of the time, Victory Field is approaching that figure.
The Indians set franchise records for single-season attendance in 2014 and again in 2015 which included 662,536 fans last year.
"It's no wonder that fans love going to Indians games. Situated in the heart of downtown Indianapolis, we are undeniably home to one of the best ballparks in the country," said Mayor Joe Hogsett. "I speak for thousands of Central Indiana residents when I say there is no better place to enjoy our national pastime and I am excited to join the Indians in celebrating this milestone."
"As one of the best minor league ballparks in the country, Victory Field is an incredible asset to the 27.4 million visitors that travel to Indy annually," said President & CEO of Visit Indy, Leonard Hoops. "And of those 12 million baseball fans, I'm quite certain many of them are visitors to the city looking for an affordable and enriching family friendly experience. A night cheering on the Indianapolis Indians always provides just that."
Other family-oriented activities at Victory Field on Friday include: