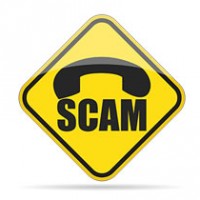 Indiana Attorney General Greg Zoeller urges people to recognize and avoid certain area codes and phone numbers that are commonly used by scammers.
Zoeller also reminds Indiana residents to sign up for the state's Do Not Call list by visiting www.IndianaConsumer.com or by calling 1.888.834.9969 before the next quarterly deadline on Tuesday, Aug. 16.
The Attorney General's Office has received more than 10,000 complaints about unwanted calls and robocalls since the start of this year, making it the most common area of complaint.
Increasingly, telemarketers and scammers are manipulating Caller ID to display false numbers, a process known as "spoofing." Caller ID spoofing allows scammers to falsify the telephone number and the name relayed on the Caller ID information to mimic the phone number of someone else. Some scammers use the same phone number for a few days or weeks, then move on to another one. Others change their Caller ID number with every call.
"If you have Caller ID, you can't always trust the number being displayed when your phone rings," Zoeller said. "Scammers can easily spoof Caller ID to make it appear like the call is originating from somewhere it's not, for example your home town or a government agency. If you don't know the phone number and are suspicious, you're best bet is to let the call go to voicemail. If you answer, your number is more likely to be an ongoing target."
To recognize a possible scam before picking up the phone, Zoeller urges Hoosiers to avoid these recurring fraudulent phone numbers and area codes.
Non-existent area code, like "000" and "123"
If the number looks fake, chances are the call is probably a scam. Let a call from these area codes go unanswered.
Area code 202
If you are not expecting a call from our nation's capital, then be wary when a Caller ID number starts with 202. The caller may be an imposter claiming to be an agent of the U.S. Treasury or the Internal Revenue Service (IRS) demanding payment of past-due taxes. This is the most common telephone scam reported to the AG's Office this year. The IRS urges consumers to report IRS imposter scams here or by calling the Treasury Inspector General for Tax Administration Complaint Hotline at 1.800.366.4484.
Area code 876
Unless you have family or friends in Jamaica, be alert when you see area code 876 on your Caller ID. In the past year, Hoosiers have filed nearly 1,500 complaints about sweepstakes scam calls from this area code. The Federal Trade Commission has partnered with Jamaican law enforcement to fight telemarketing fraud. For more information about this scam, visit here.
Unfamiliar area code or number
Many people have stopped answering calls from unknown numbers in far-flung places. If you are not expecting a call from Bismark, North Dakota or Tacoma, Washington, it is probably best to ignore it.
Same area code and exchange as your number
If you receive a call from your own number, or a number that is only a couple of digits removed from your number, be very wary. Telemarketers are known to employ a type of spoofing known as "Caller ID mirroring," which involves transmitting a number close to the number they are calling to get someone to pick up the phone.
Generic names, like "Card Services" or "Home Security"
The Caller ID name can also provide a clue to a potential scam or telemarketing violation. A generic sounding name like "Card Services" informs consumers the call may be a robocall or a scam.
For more tips on avoiding phone scams, visit here. The next quarterly deadline to register cellular and landline residential phone numbers on the Do Not Call list is midnight on Tuesday, Aug.16.
Hoosiers who receive an unwanted call or are targeted by a phone scam can file a complaint with the Office of the Attorney General by visiting www.IndianaConsumer.com or calling 1.888.834.9969.