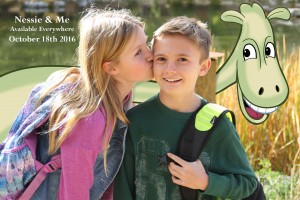 It was a  special moment watching the Pre Screening of "NESSIE & ME" at The Strand Theatre – seeing Shelby County's very own Joe Gaudin's name on the big screen as Producer and listening to the crowd cheer in support of this awesome accomplishment.  "NESSIE & ME" will be distributed through SONY – which means it will be available at all major retailers on DVD and streamed on October the 18th!  Gaudin's "NESSIE & ME" is an Independent, Dove Award Film.
The story of "Nessie & ME" is  revolves around a 9-year-old boy  who moves to a lakeside village and befriends a captain who claims a mythical sea creature named Nessie lives in their peaceful waters. When Nessie proves to be real, the boy embarks on a special mission to save the town from a corporate villain and prove that anything is possible if you just believe.
NESSIE & ME stars: Michael Pare (Streets of Fire, Eddie & The Cruisers), Toni Hudson (Just One of the Guys, Places In the Heart), John Henry Richardson (Sniper: Special Ops), introducing Walker Mintz and Jolie Ledford
DIRECTED BY: Jim Wynorski
PRODUCED BY: Joe Gaudin
RUNTIME: (85 Min)
Joe Gaudin gave a behind the scene details of the making of "NESSIE & ME" and several local tie ins to our community that viewers from Shelby County may recognize!  Click on the link below to listen to Gaudin taking "A Trip with Penny Lane" on GIANT 96 REAL RADIO!