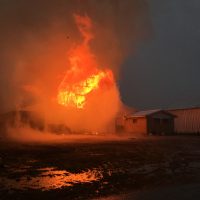 Moral Township with Fairland Fire and Shelbyville Medics where called to the 7654 North 650 West for a barn fire just before 10:00 am Monday.
When crews arrived they found a fully involved barn fire. At that time Moral Township called for tankers and manpower from the Fairland Fire Department.
The owners of the property are listed as Margie Whitley and Robert and Peggy Miller.
A firefighter was treated by Shelbyville Medics for an unknown reason.
The investigation into the cause is still ongoing.