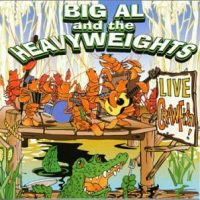 Join Big AL and The HEAVY WEIGHTS tonight @ the Slippery Noodle Inn!
From Cajun to Zydeco to Blues to Rock and everything in between, Big Al & the Heavyweights offer a musical gumbo sure to please all.
Big Al and The Heavyweights began in 1992 as the Unknown Blues Band with founding members Warren Haynes and Al Lauro. The two met performing in country outlaw, David Allan Coe's Band. They quickly found a common interest; their love of music, especially the blues. Soon they put together the U.B.B and began performing at small clubs and festivals. The band began getting notoriety for their lengthy sets and their ability to fuse their many musical influences into a powerful brand of blues.
Big Al and the band began touring the country relentlessly focusing the band's sound more on his Louisiana roots and the music that began being called "Gumbo Grooves". Their first CD, "That Ain't Nice", received critical acclaim from all the major blues societies and publications. Finally, the big break came when Dan Aykroyd featured the band's songs, "House Party" on his House of Blues Radio Show as the Blues Breaker of the Week. Following the national attention,  the CD was nominated for Blues Album of the Year by one of largest entertainment organizations in the U.S., the Nashville Entertainment Association. The band was honored to having been nominated along with fellow nominees: Roscoe Shelton, Earl Gaines, and Jimmy Hall (who won) formerly of the famous southern rock band, Wet Willie.
Click on the link below to listen to Big AL taking "A Trip With Penny Lane" on GIANT FM REAL RADIO:
Follow
  online  CLICK HERE