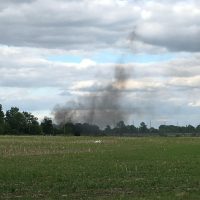 Firemen responded to Morristown's Integrity Metals Wednesday evening.
The call brought firemen from Morristown, Fountaintown and Arlington to the scrap metal processing company. Black smoke could be seen coming into Morristown from the burning pile at Integrity Metals at 6:30 pm.
The fire was under control before 7:00 pm.  No word on a cause at this time.