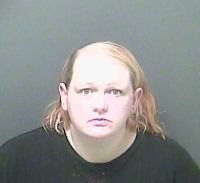 Shelbyville Police say an anonymous tip led to an arrest on drug charges.
Officers responded to 755 2nd Street neat the Shelbyville Bible Mission Church on a tip about continued drug use and drug sales in the area.  The tip involved an identified female who lived there and reports of teenagers using methamphetamine.

Police spoke with Amanda Tyree, 37, at the residence.  They explained the complaints they were investigating and were given a consent to search by Tyree and her father.  A pipe with burnt marijuana was found.  Messages were found on a cell phone as recently as July 27 regarding buying meth and pills.  Bags of crystal substances on scales with their weights were seen in pictures on the phone.
In the living room of the home officers found multiple smoking devices that appeared to contain burnt meth.  Digital scales that appeared to match the cell phone picture were also found.  A mirror containing white residue was also found.
Police report finding a stack of counterfeit money in a living room closet.
Amanda Tyree was arrested on initial charges of possession of methamphetamine and maintaining a common nuisance.
As Tyree was taken to a police car she told police she thought she was going to have a seizure.  Medics transported her to MHP Medical Center for treatment.  After she was medically cleared she was transported to the Shelby County Jail.