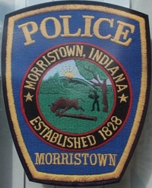 On July 26, 2017, at approximately 2:00 am, the Morristown Police Department was assisted by Shelby County Sheriff Department on a traffic stop. As a result of the traffic stop, a stolen vehicle out of Anderson was recovered and three subjects were taken into custody. In addition to the stolen vehicle, methamphetamine and marijuana were seized along with various pieces of paraphernalia.
Unknown substances and prescription medication recovered and seized as evidence will be tested and identifed by the Indiana State Police Lab.

A handgun was recovered inside the passenger compartment of the vehicle.  None of the occupants possessed a handgun permit as required by the State of Indiana.
Suspects and initial charges include:
George Lee Griffith, Jr., of Flat Rock, IN
Possession of Stolen Vehicle
Possession of a Handgun without a permit
Possession of Marijuana
Possession of Paraphernalia
Sherry C. West, of Greensburg, IN
Trespass in a Stolen Vehicle
Possession of Methamphetamine
Possession of Marijuana
Possession of Paraphernalia
Kathrine Roseanne Hadly, of Hope, IN
Trespass in a Stolen Vehicle
Possession of Methamphetamine
Possession of Paraphernalia