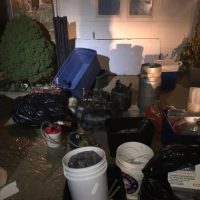 Troopers with the Indiana State Police, Versailles District All Crimes Policing Unit served a search warrant Thursday at a residence near the Columbus which led to the discovery of a methamphetamine lab, marijuana growing operation, other illegal drugs, numerous weapons, and improvised explosive devices.
The investigation began when troopers received information of illegal drug activity taking place at a residence located at 7650 West State Road 46, Columbus.  Troopers arrived at the scene at approximately 2:00 pm and obtained further information that ongoing drug activity was taking place.  This information was used to obtain a search warrant for the residence.

While serving the warrant, at approximately 6:00 pm, troopers located an operational methamphetamine lab, a marijuana growing operation, approximately an ounce of methamphetamine, five grams of heroin, 25 pounds of marijuana, 10 pounds of pseudoephedrine, over 75 firearms, ammunition, and 8 improvised explosive devices.
The owner and loan occupant of the residence at the time, Gregory A. Traylor, age 59, was taken into custody at the scene.  He was transported to the Bartholomew County Jail on numerous initial charges.  Traylor faces charges of manufacturing methamphetamine, possession of methamphetamine, dealing a narcotic drug, possession of a narcotic drug, maintaining a common nuisance, dealing marijuana, cultivating marijuana, possession of marijuana, possession of methamphetamine precursors with intent to manufacture, possession of drug paraphernalia, and possession of a destructive device.
The investigation is ongoing and may lead to additional charges on Gregory Traylor and possibly additional suspects.  The ATF was contacted to assist in the investigation due to the firearms and explosive devices being found at the residence.
The ISP-Versailles District ACP Team was assisted by the Bartholomew County Joint Narcotics Enforcement Team (J-NET), the Bartholomew County Sheriff's Department, the Columbus Police Department's Explosive Ordinance Disposal Team, and the ATF.