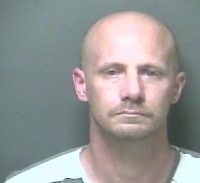 A Shelbyville man is one of dozens arrested in a drug investigation in Johnson County.
Roger Wayne Wethington, Jr., 42, of Shelbyville is charged with two counts of dealing methamphetamine.  One a Level 3 Felony, the other a Level 4.
63 people were arrested on warrants.  Another four were arrested on outstanding warrants in the months-long investigation involving a number of local and state agencies.
Wethington Jr. was arrested in Shelbyville in July of this year on heroin and marijuana related charges.  He has been arrested numerous times.