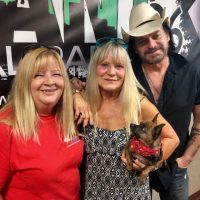 It always is a special time on air when former Shelbyville resident, Janne Browne returns home.  Excitement seems to always be brewing in the air within our Shelbyville Community.  Browne's musical foundation blossomed in her younger years growing up.  Browne's childhood friend, Rhonda Pursley shared her memories on Browne playing piano and singing as a young girl.  Browne musical journey has captivated fans all around the world.
Highlights include:
Selected by The California Country Music Association as "Entertainer of the Year" two years in a row and was a nominee by the
Academy of Country Music as "Female Vocalist of the Year".
Browne's  first album "Tell Me Why" produced two top ten hits, along with a number one video on CMT.
Browne toured  as female lead singer with Grammy award winning "Asleep at the Wheel" and now her current band takes her around the world. Her live show consists of high-energy alt and traditional country, edgy bluegrass and rock, and melodically beautiful ballads that showcase her pure vocal talent.
Emmylou Harris said: "There's something about the way she sings that is so pure and honest, and her writing is wonderful." Emmylou backed up her quote to the
L A Times newspaper, by singing with Jann on her first CD. The song "Mexican Wind", co-written by Jann, became a number one video in the U.S., and was recorded by a variety of international artists.
*  Brown's  song "Trouble's Here" was recorded by country singer Lee Ann Womack, and gave Browne and her co-writer/guitarist, Matthew Barnes, their first gold record.
Other artists including Joy Lynn White, Dwight Yoakam and Texas singer Danni Leigh have also recorded music penned by Jann.
Browne  has performed on the "Grand Ol Opry", CMT, and many other TV and radio shows. She has been featured in "People" magazine and "USA Today".
The artists that Jann has toured and performed with is a virtual Who's – Who of country music history – names such as Dolly, Willie, Vince Gill, the Judds, Emmylou, Trisha Yearwood and on and on…….

During an interview on "A Trip With Penny Lane" on GIANT FM, the Committee Chair to elect Jenny Kinsley for Circuit Judge, Rhonda Pursley shared with listeners that Shelbyville's first Magistere Judge Jenny Kinsley desire to have Browne entertain during her fundraiser for her campaign kick off in May.  Kinsley will be running for Circuit Judge in Shelbyville.  Pursley asked Browne and the date was set!
Don't miss the opportunity to hear one of country music's true and authentic voices- Jann Brown this Sunday, September 24th at The River Front Taproom!
Click on the link below to listen to Jann Brown, Matthew Barnes and Rhonda Pursley taking " A Trip With Penny Lane" on GIANT FM.