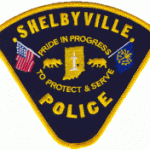 Two people were injured, one transported to the hospital following a three-car accident Wednesday evening.
Shelbyville Police were called to 1520 South Miller Street just after 6:30 pm.

Lydia Oldham, 26, of Shelbyville was driving a 2013 Terrain.  Oldham told officers she was waiting for traffic to clear to turn into the bowling alley.  Oldham says Cody Wilson, 27, of Shelbyville, was driving a 2007 Ford Fusion and stopped behind her.  According to Oldham a third car, an '06 Grand Prix driven by Hailey Knose, 18, of Shelbyville, ran into the back of the Wilson vehicle which then ran into hers.
Wilson had a complaint of pain in the sternum area.  He was transported to the hospital.
Knose was taken to the hospital by her father.  Shelbyville Police spoke to Knose at the hospital.  She stated she didn't see the brake lights ahead of her before the crash.
All of the drivers were wearing seat belts.