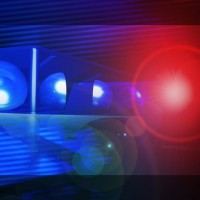 A police pursuit that began in Greensburg Sunday ended with arrest in Shelby County.
About 11:00 pm Sunday, Greensburg Police conducted a traffic stop because of ongoing investigation.  Police report that Michael Bower, 46, of Greensburg, refused to put his vehicle in park and step out to speak with officers.  When they tried to open his driver's side door, Bower accelerated and drove off.

The pursuit quickly headed north out of Greensburg on Moscow Road through northern Decatur County and portions of Rush and Shelby counties.  Greensburg Police say Bower drove through four fields causing thousands of dollars of damage to crops.  The pursuit reached I-74 and the edge of Shelbyville.
The Greensburg Police report Bower turned into the median from the westbound lanes and turned eastbound.  S Shelbyville Police officer deployed a tire deflation device which punctured two of Bower's tires.  The pursuit came to a stop north of the SR 244 interchange.
Bower exited his vehicle but ignored commands of officers. He was apprehended by the Shelbyville Police K9.
Bower was taken to the MHP Medical Center for treatment from the K9 arrest.
The pursuit lasted one hour and traveled approximately 44 miles.
An investigation is ongoing.  Additional charges are possible.
Preliminary charges include:
Resisting law enforcement with a vehicle
Criminal mischief
Reckless Driving
Invasion of Privacy
Stalking