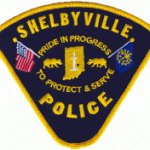 A video that claims to show the theft of items from a home by an electrician hired by the homeowner is being investigated by police.
Shelbyville Police say the department has received inquires on the investigation into the electrical worker shown on video inside a customer's residence. On September 24, 2017, the Shelbyville Police Department conducted an investigation into a theft at the victim's residence. The incident took place in the 2000 blk of Saddle Dr. in Shelbyville.

The victim stated that she left the residence for a few minutes. Later she viewed some camera footage and saw the suspect by her couch, where he appeared to be looking through something. The suspect is seen on the video walking around the house. The victim later found items missing from her residence.
Shelbyville Police have taken all the information given to them and turned it over to the Shelby County Prosecutors Office for review.
At this time the incident is still under investigation. No names are being released by police at this time.