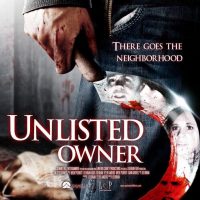 Sumner, IL., October 3, 2017– Unlisted Owner, the highly anticipated found footage horror film about a group of friends making bad choices that lead to a night filled with horror and terror. The 74 minute long horror film was written and directed by Illinois native Jed Brian. Starring Gavin Groves, Haidee Corona, Andrea Potts, Jed Brian, Tyler Landers and Levi Atkins. The film will be released on DVD through Amazon November 14, 2017.
The movie was filmed entirely in Southeastern Illinois town of Sumner by Jed Brian's production company Lawford County Productions. Having a cast mostly from the Sumner area and actress Haidee Corona from Shelbyville, IN. the film has a strong Midwestern feel. The film is being released by Tomcat Films/ Summerhill Films.
Jed Brian talked about the film Monday on The Morning Show with Johnny McCrory:
Unlisted Owner has had a powerful opening for pre-orders on Amazon since launching two weeks ago. The film has had stiff competition competing against some of the most fan filled horror franchises like "The Walking Dead Season 7" and "American Horror Story Season 6" to new film releases such as "47 Meters Down".
Writer/Director Jed Brian said, "It is so amazing to see Unlisted Owner do so well competing against such well known new releases in the toughest time of competition for a horror film."
In Unlisted Owner we find our group of six friends – played by Gavin Groves, Haidee Corona, Tyler Landers, Jed Brian, Andrea Potts, and Griffin Groves- hear of a family of five murdered in a house close to where they will be camping for the night. Deciding to return to investigate would be the worst mistake of their fun filled night.