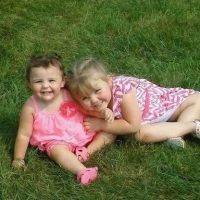 On Friday, October 20th two beautiful little girls lost their lives in an auto accident.
Kaylee Creamer, 4, and Allison Creamer, 22 months, were riding with their aunt when the crash happened right in front of their home.

"I was sitting in the house and heard the noise out front,"  their father Timothy Cramer told news.  "I saw them coming across, and I ran out trying to get my babies out of that car."
Mary Bailey was driving her car north on State Road 7, with her two young nieces in the car, according to Indiana State Police Sgt. Stephen Wheeles. Bailey slowed down to make a left turn onto County Road 900 North and was hit by a 2015 Chevrolet Silverado pulling a trailer.
Their family and friends are devastated.   Family friends including  Ericka Braum, Heather Meadows and The Chosen Brothers  are raising money to help cover their final expenses.  Please feel free to donate what you can or send a message of love as their parents, Shannon and Tim Creamer, and the rest of the people that loved them attempt to deal with this unimaginable loss.
You can attend the Cramer's Angels Benefit Ride, Saturday Nov, 4th in Columbus at The American Legion Auxiliary Unit 24 with the Chosen Brothers, family and friends.
Click on the link below to listen to an interview with Kaylee Creamer and Allison Creamer's parents Timothy and Shannon Cramer and family friends Ericka Braum and Heather Meadows.
Timothy Cramer shared one of his recent special memories of Kaylee and Allison:
During our interview with The Cramer's we played Sam Hunt's "Body Like A Back Road", the song their father remembered singing with his daughters.
.
.
.