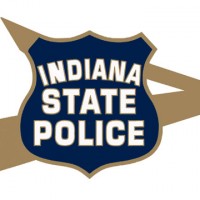 Indiana State Police Master Trooper Mike Ooley overheard a Rush County Dispatch of a pregnant woman with a stalled car in water flowing over Rush County Road 100 South just west of CR 715 W.
Master Trooper Ooley contacted deputies and coordinated with them that he would come in from the west, and they from the east, to see which side would be the closest to the car for a rescue.

Meanwhile the woman on 911 told dispatchers the water was beginning to come in her door. They advised her to follow the Indiana State Police protocol for escaping a car in water, by getting out of her seatbelt and climbing out a window onto the roof of the car to await rescuers.
Trooper Ooley and Rush County deputies decided it was safer to coordinate the rescue from the west side of the flowing water.  Manilla Fireman Phil Ramsey arrived in his four wheel drive truck with Ooley.  Ooley climbed into the taller truck and the two men were able to slowly drive through the flowing water out to the 1996 Grand Prix and safely get the driver, Addison Pugh, 22, of Manilla, into the bed of the truck.
Ramsey then backed the truck slowly out of the water the direction they had entered, as the water was deeper and swifter just to the east of the car.
Master Trooper Ooley said,  "This area is known to flood easily, and has high water signs up for a reason."
Pugh, who was checked out by EMS, was uninjured, but her actions could've had dire consequences.
With yesterday's heavy flooding rains, it's important to remember not to disregard high water signs, and to NEVER drive into water flowing over a roadway. If you find yourself in a vehicle that crashes into water, the way to survive is the same.  Open a window and get everyone in your car out of their seatbelt. If there are children in the car, get them out first, starting with the oldest; climb out of an open window onto the top of your car.
Only call 9-1-1 from the top of your car after everyone is out. Ride the top of the car like a boat until help arrives. For more information about flood safety, including a video on how to escape a car that crashes into water, visit the Indiana State Police web site at https://www.in.gov/isp/2964.htm