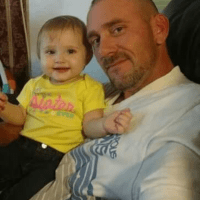 Family members say a Shelbyville man ran out of his home after his dogs and shortly after went missing.
Chris Young, 38, of Shelbyville, has been missing since Monday night.  His cousin, Tessa Wainscott, told GIANT fm what the family knows about the night Young disappeared.

Wainscott says they have had a couple of leads and people who reported seeing Young but nothing concrete and nothing has developed from those leads.
Shelbyville Police issued the following release on Chris Young:
A family member reported Christopher Young as a missing adult to the Shelbyville Police Department on Tuesday, November 7.
Christopher was last seen on Monday night when he left his residence wearing either gray sweatpants, a white t-shirt, and barefooted, or a white tank top with a black t-shirt over it, blue sweatpants and blue socks.
Christopher is described as a white male, 38, with brown hair and brown eyes, 5'10" tall and 150 pounds.
Anybody with information on Christopher's whereabouts may speak with Shelbyville Police Department Detective Joseph Nolley at (317) 392-5118.