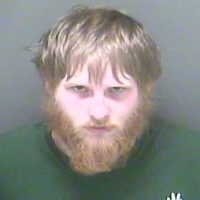 Shelby County Prosecutor Brad Landwerlen says the conviction of a man for his role in the death of a fetus in a 2015 car accident is the good news.  He's not nearly as pleased with the rest of the story.
David G. Pike, 20, formerly of Shelbyville, was convicted Monday of Operating A Vehicle While Intoxicated Causing Serious Bodily Injury, a Level 6 Felony.  The charges stem from an accident on May 1, 2015 in which Pike pulled out in front of a vehicle while delivering pizzas for Pizza Hut and after smoking marijuana.  Shelby County Prosecutor Brad Landwerlen says Pike's girlfriend was a passenger in the vehicle and was unresponsive when medics arrived.  She was flown to Methodist Hospital where she recovered, but her unborn baby died as a result of the crash.
Landwerlen says Pike has since moved to Colorado (where marijuana is legal) and married the woman who was his passenger that day.  She has a lawsuit against Pizza Hut for their employee (now her husband) killing her fetus.  So they (including him) may benefit financially from the criminal act of driving while impaired on illegal drugs and killing a fetus.
Pike will be sentenced by Judge Kent Apsley on December 20.  He faces a maximum sentence of 2.5 years in jail.  Due to the legislature's re-write of the criminal code in 2014, he faces less time than he would have previously, and cannot be sentenced to prison – just to the local jail.
Landwerlen commended the investigation conducted by Shelbyville Police Department Detective Bill Dwenger, as well as the prosecution of the case by deputy prosecutor Ed Zych, for their hard work on this case.
The Shelby County Prosecutor says if the public is upset by the fact that Pike may benefit financially by killing a fetus, or that he is looking at such a light sentence, they should contact their legislators.
The prosecutor goes on to say that he urges people to contact their legislators demanding that they not legalize marijuana – for so-called "medical" purposes or otherwise.  When marijuana was legalized for medical purposes in Colorado, the fatal crash rate by impaired drivers in that state significantly increased.