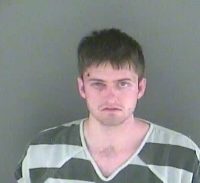 Shelbyville Police were dispatched Friday night to a fight at the mini-mart at Colescott and Miller St.  Two males were found by officers fighting in the alley.
According to the police report, officers were told by Ken Pavnica, 53, that he was trying to restrain his son, Mitchell Pavnica, 24, of Shelbyville, after he had battered family members including himself, his wife and grandmother.

Ken Pavnica fell back onto the pavement while speaking with police and medics administered CPR at the scene.  He was then transported to the MHP Medical Center.  The last official report on Ken Pavnica's condition listed him in serious condition after being revived by medics and later transferred to Methodist Hospital.
Linda Benson, 74, told officers that Mitchell Pavnica had come to live with her at her Dunn Street address after a few months ago being arrested for battery on his parents at their Washington Street home.  At that time, a no contact order was put in place and Mitchell went to live with her.
Benson said Friday evening, she was approached by Mitchell who demanded she write him acheck for $58,000 dollars. He told gave her explicit instructions that she was to go the bank and get the check written out in her name, and she would later cash it for him. Benson said he had asked for money in the recent weeks for some sort of investment he had created, but did not specify where the money would actually go. Benson did not want to write the check, but she told police that Mitchell was very intimidating in his demeanor to the point where she wrote the check so he would leave her alone.
Benson said it was a short time later that Mitchell Pavnica came into her bedroom, pulled her off the bed and began to choke her.  Pavnica eventually let Benson go and she ran to a bathroom to call family for help.  Mitchell Pavnica physically fought with his parents when they arrived and Benson ran from the home to the nearby mini-mart to get help.
Judge Riggins authorized a search warrant for the home and for Mitchell Pavnica's DNA. Mitchell treated for injuries at MHP Medical Center and then transported to the Shelby County Jail charged with three counts of Battery and two counts of Strangulation.