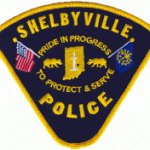 Shelbyville Police are investigating a shooting incident that resulted in an injured man being Lifelined to an Indianapolis hospital.
Shelbyville Police initially responded early Saturday evening to 845 Miller Avenue and a gravel area near the trailer park at that location.  They were informed by a witness that a car involved in the shooting had fled the scene.

Austin Pogue spoke with GIANT fm News.
Police were then dispatched to Shelby High Apartments where a man with a gunshot had been spotted.  The man, Billy Welch, 22, of Shelbyville, was on the staircase of the first floor of the building.  Welch was taken with a gunshot wound to the leg to the Porter Center to be Lifelined.
Police say Welch did not have a gun on him when he was found.  Police say Welch told them he wanted to buy a gun, gave the money for the gun and put it in the front of his pants.  Welch says the man he was buying the gun from then tried to grab it as if to take it back.  Next thing he knew the gun went off and he felt pain in his leg.
Welch said he got into a car and drove to Shelby High Apartments to see his sone.
Police working the Miller Avenue scene report speaking with Kelsay Montgomery, 23, of Shelbyville.  The police report states Montgomery explained Billy Welch had taken money and a cell phone from their trailer.  Her husband, Ross Montgomery, 25, of Shelbyville, got in a car to find Welch.  Shortly after, Kelsay Montgomery says she saw Welch in a car back at the property and heard gunshots.  She believed Welch discharged the gun in his pants.  Montgomery said she saw the gun in the front of Welch's pants and had seen it in the past.
Police made a traffic stop on Ross Montgomery's vehicle just south of the Five Points intersection on Miller Avenue.  Montgomery was ordered out of his car at gunpoint by an officer and handcuffed.  Montgomery said he did not have a gun and none was found.  He was charged with Possession of a Synthetic Drug after telling the officer he had spice in his pocket and a plastic container was found.
No other word on charges in this case as police continue to investigate.