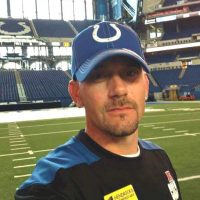 Christopher A. "Bulldog" Young, 38, of Shelbyville, passed away Sunday, December 3, 2017 in Shelbyville.
He was born May 30, 1979 to Russell E. Young Toni (Martin) Dobbins in Marion County, IN. He married Mandy (Hilderbrand) Young on April 30, 2016, and she survives.

He is also survived by his son, James Young and daughter, Amelia Young, son, Drew Wainscott and Tyler Ogden; brother, Brian (Felicia) Martin; sisters, Michelle (Jesus) Valdez and Amanda (Javier) Garcia; grandma, June Martin, paternal grandparents, Robert and Sherry Young; 1 granddaughter and several nieces and nephews.
He was preceded in death by his grandfather, Loren Martin.
Christopher was employed as a carpenter.  He was an avid sports fan and enjoyed watching the Indianapolis Colts.  He loved being outside and working outside.
A Celebration of Christopher's Life will be held Saturday, December 9, 2017 from 11 a.m. to 1 p.m. at Murphy-Parks Funeral Services, 703 S. Harrison Street, Shelbyville, IN.
Online condolences may be shared at www.murphy-parks.com.