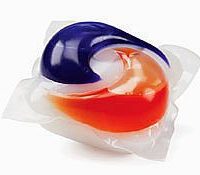 Retailers and social media taking action with the dangerous Tide pod challenge

The American Association of Poison Control Centers issued a national alert about the dangers of ingesting detergent pods.
Walmart and Walgreens are among retailers locking up the pods behind plastic or glass doors because they have become a popular item to steal.
Tide is running multiple PSAs on social media featuring Patriots' TE Rob Gronkowski about the dangerous challenge.
YouTube, Facebook and Instagram are among those removing posts involving the challenge from their platforms.