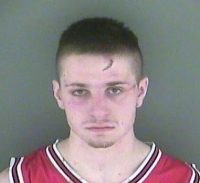 A Waldron man is charged with burglary in an incident that resulted in injury and a brief confrontation with police.
Shelbyville Police responded to the area of Wellington and Eberhart Monday at 10:00 pm for a report of a man covered in blood.  Justin Ayers, 21, was located and ordered to get on the ground as he yelled at officers to, "shoot me and Taze me."

Police say Ayers speech was slurred and he smelled of alcohol.
Ayers was handcuffed and taken to MHP for medical treatment.
A female at the scene told officers they should check on a Chris McKinney on Roosevelt Drive because Ayers had said that he had cut someone and possibly killed a person.
Officers found McKinney at the address carrying a hammer.  He told officers he thought they might be the person who just broke into his home returning.  McKinney told Shelbyville Police that a man entered his back door and reached into his jacket to pull out a handgun.  That's when McKinney rushed the man and tackled him, knocking the handgun free.  When he went to call 911, the man later identified as Ayers left the house.
The back door glass was shattered and the door jamb broken.
Following Ayers medical treatment he was taken to the Shelby County Jail charged with burglary, criminal recklessness, residential entry, intimidation and criminal mischief.