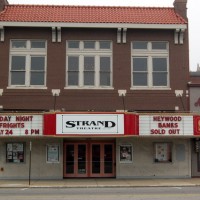 The Strand Theatre in Shelbyville has announced the cancellation this weekend of scheduled shows.
Changes in performance dates are available.  The CCR Tribute will be back in 2019.

The Glen Campbell Tribute will be later this year on June 9.
Online purchases will automatically have their credit card refunded.   Tickets purchased at Mickey's T-Mart can receive a refund at any Strand performance or by calling 317-395-3318.
Tickets for the Glen Campbell Tribute can also be used at the June 9 show.