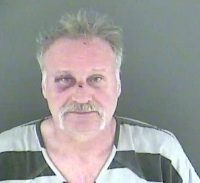 A response by the Shelby County Sheriff's Department to a call of a possible crash resulted in the arrest of a man wanted by law enforcement since 1982.
About 9:45 pm Tuesday the Shelby County Sheriff's Department responded to State Road 252 and CR 600 West.  The Flat Rock Fire Department was already treating the person involved in the crash.

The man identified himself as Terry Burton from Edinburgh.  County dispatch found a person with that name had died nearly a month ago.
During this time the driver of the crash had been transported to MHP Medical Center for further treatment.  Deputies again asked the driver for his name and he replied that his name was Gary Lee Burton.  Burton, 60, then confirmed that he had walked away from the Henryville Correctional Facility in the early 80's and that he did not want to lie anymore.
Burton escaped with another inmate in June of 1982.  The other inmate was recaptured.  Burton has been a fugitive ever since.
A computer check for Gary Burton confirmed that he was a wanted fugitive and he was then taken into custody without incident.  Burton was arrested for O.W.I., False Informing, Out of County Warrants and Escape.