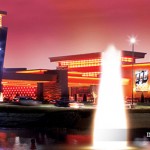 A new southern Indiana land-based casino could be in jeopardy as Caesars Entertainment disputes a $50 million state fee to buy racinos in Anderson and Shelbyville.
Caesars announced in November that it would pay $1.7 billion to buy Hoosier Park Racing & Casino in Anderson and Indiana Grand Casino near Shelbyville.

The Indianapolis Business Journal reports Caesars argues the state fee for transferring those casino licenses shouldn't apply. The report adds that Caesars has told the Indiana Gaming Commission it's reconsidering a $90 million project for building an on-land casino.  That casino would replace its Horseshoe Indiana Casino near Louisville.
The Indianapolis Business Journal reports the gaming commission is expected to review the Caesars-Centaur deal in May or June, which is also when they could discuss the fee issue.