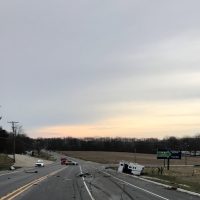 A two vehicle crash Sunday afternoon on SR 38, in the area of Henry County Road 300 W., claimed the life of a New Lisbon man and sent his passenger to the hospital.  Around 3:30 pm Henry County Deputies and ISP Trooper Mark Hanna responded to SR 38 at CR 300 W. to find a 2001 Dodge Ram Pickup, that had been pulling a horse trailer, off the north side of SR 38 at CR 300W, and a Buick Rendezvous on the south edge of SR 38 approximately 300 feet east of CR 300 W.
The preliminary investigation indicates that the eastbound Buick Rendezvous, driven by Paul Young, 49, of New Lisbon, for an unknown reason drove left of center and side-swiped the westbound Dodge Ram Truck, driven by James Wicker, 51 of Straughn. The front driver side of the Rendezvous then impacted the horse trailer being pulled by the truck.
The driver of the Rendezvous, Paul Young, was transported from the scene by Henry County EMS but later died from his injuries at Henry Community Health Hospital.  His passenger, Lindy Gayle Goodson, 43 of New Lisbon, who was asleep in the front seat at the time of the collision, was transported to Henry Community Health with non-life threatening injuries.
The driver of the Dodge Ram truck, James Wicker and his passenger, Paula Brown Gardner, 46, of Greenfield, were treated at the scene for minor non-life threatening injuries. The crash had SR 38 closed at CR 300 W. for more than four hours as officers investigated the crash.