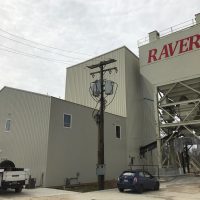 Raver Ready Mix Concrete has opened a new location in Shelby County.
With corporate headquarters located in New Point on State Rd 46, Raver has just started business at its new facility in the Morristown Industrial Park.

Joe Raver talks about the new Morristown site.
Raver talks about the business they're seeing in the first week.
Construction on the site began late last year and there is still some site work to be done even while business is underway.
Morristown Area Chamber of Commerce board member Jason Parker hopes Raver's move to Morristown is another step in growing the community.