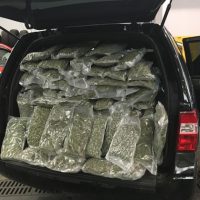 A traffic violation turned into a major marijuana arrest for Indiana State Police in Hancock County.
On Monday morning an Indiana State Trooper pulled over a 2017 Ford Expedition for a traffic violation on I-70 near Greenfield. The trooper later discovered more than 78 pounds of marijuana inside the vehicle.

Monday, around 11:00 a.m. a trooper who was patrolling I-70 in Hancock County noticed a black SUV weaving outside the traffic lanes. A subsequent traffic stop and investigation revealed a large amount of marijuana inside.
The vehicle was driven by Christian Elie, 51, of Elbert, Colorado, and there was one passenger, Austin Johnson, 42, of Indianapolis. Both men were arrested and transported to the Hancock County Jail on preliminary drug charges.
Troopers will work with the Hancock County Prosecutor's Office to determine formal charges. The street value of the marijuana is estimated to be around $250,000.
 You can report Illegal drug activity occurring in your area by calling the Indiana State Police Drug Tip Line 1-800-453-4756.