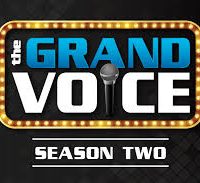 Season two of Indiana Grand Racing & Casino's Grand Voice competition will come to a close on Friday, May 18 at 8 p.m. when the top five finalists compete for the winning title, $5,000, and an opportunity to sing live at the property. Finalists include Madison Krueger, Larry Redding, Kayce Jo Sexton, Michael Thomas, and Ashley Threatt.
The final five contestants were selected on Friday, May 11 from a group of 11 semi-finalists who were chosen over three preliminary rounds held at Indiana Grand on April 20, April 27, and May 4. The semi-finalists each received $100 casino cash and performed at the semi-finals for their chance to advance to the final round.

During Friday's grand finale, the finalists will each perform two songs of their choice accompanied by the Indiana Grand house band, Cook & Belle. One contestant will be named The Grand Voice, winning $5,000 in cash and the opportunity to perform live at Indiana Grand. Other prizes include $1,500 for second place and $750 for third place.
The Grand Voice competition is held at Center Bar located on Indiana Grand's casino floor. The performance is free to the public and guests 21 and over are welcome to attend.
ABOUT THE FINALISTS
MADISON KRUEGER: Twenty-two-year-old Madison Krueger is from Indianapolis. Her performance of "Sunday Morning" by Maroon 5 at the semi-finals helped secure her position in this year's finals. Krueger was a semi-finalist in last year's competition as well.
LARRY REDDING: Also known as "Choclett P", Larry Redding is 27 and lives in South Bend. Redding performed Ed Sheeran's "Thinking Out Loud" in the semi-final round and advanced to the finals for his chance to be The Grand Voice.
KAYCE JO SEXTON: Kayce Jo Sexton, 39 of Sellersburg, performed "Something's Got a Hold On Me" by Christina Aguilera at the semi-finals. That song sent her to the final round for her chance to be this year's Grand Voice.
MICHAEL THOMAS: Thirty-two-year-old Michael Thomas of Indianapolis was also a finalist in season one of The Grand Voice, and finished as the second place winner. This year, Thomas' performance of "Issues" by Julia Michaels secured his position in the finale.
ASHLEY THREATT: Singing "Blame it on the Boogie" by the Jackson 5 at the semi-finals gained 25-year-old Threatt her position in this year's final round. Threatt resides in Nobelsville."The judges definitely have their work cut out for them this year," said Elena Lisle, marketing director at Indiana Grand. "The talent is top notch, and it's an exciting competition for all involved. Our goal is to pack the house, and make it an experience our guests will truly enjoy."