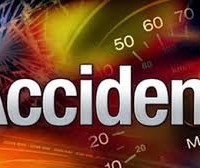 A car traveling too closely behind another led to an accident on State Road 44 in Shelby County Wednesday afternoon.
The Shelby County Sheriff's Department reports Mollie Clements, 18, of Shelbyville, was driving a 2008 Ford Taurus westbound on SR 44 near CR 500 West just before 1:30 pm.  Clements was slowing to turn north onto 500 West when her vehicle was struck from behind by a 2013 Chevrolet Sonic driven by Carlie Williams, 23, of Fountaintown.

Clements vehicle came to a stop on 500 West.  Williams vehicle spun after the impact and came to a stop on SR 44 facing east in the westbound lane.
The sheriff's report says Williams was traveling too close to avoid a collision.
Clements had a hip – upper leg injury.  A juvenile passenger was also taken for medical treatment.
Williams was also taken for treatment of a leg injury.
All of those involved were wearing seat belts or child restraint.