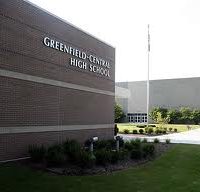 Two teenagers have been arrested in Greenfield after a threat was made involving Greenfield-Central High School's graduation rehearsal.
The arrests Friday were a day before the school's graduation ceremony.  The investigation began when an officer received a message from someone that they were told the two suspects were talking about shooting up the rehearsal.
Greenfield Police Chief Jeff Rasche.
Court documents show that Smith told investigators that it was a bad joke and there was not intent to go ahead with such a plan.