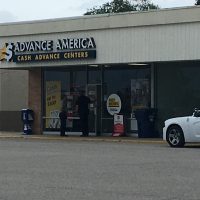 Shelbyville's Advance America Cash Advance Center in the Bel-Aire Shopping Center was the site of an attempted armed robbery Wednesday afternoon.

In the 3:00 pm hour, a unknown male attempted to make entry into the Advance America. Shelbyville Police report that the suspect was dressed in all black with a black ski mask. The individual was armed with a handgun.

Because you must be buzzed into the facility the suspect was unable to make entry and fled the scene.
Shelbyville Police are investigating. The Shelby County Sheriff's Department assisted with K9's in the perimeter search.