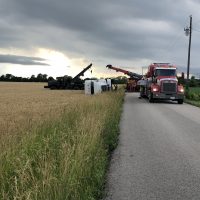 A semi – tractor pulling a tanker overturned in Shelby County Wednesday afternoon.
The Shelby County Sheriff's Department says the accident occurred on Mausoleum Road east of 200 West.  The semi was hauling 5000 – 6000 gallons of Amino methyl proponal and was marked with a hazardous material placard.

The driver, Donald Reese, 67, of Conyers, Georgia, said that he exited I-74 at State Road 9 and followed his GPS to deliver at Yushiro Manufacturing on West Mausoleum Road.  He turned onto 200 West and tried to get over to the right for an oncoming vehicle when the truck overturned.
The normal delivery route for trucks is to take Michigan Road to Mausoleum Road.  As the road passes the factories it narrows and is marked with a "no trucks" sign.  The route Reese took onto Mausoleum Road from the west side is not marked.
The Shelbyville Fire Department responded to the hazardous material concern.  The tanker did not appear to be leaking according to the sheriff's department report.  Davis Towing also responded to upright the truck.
The driver was not injured.