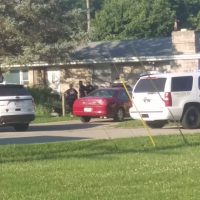 A car chase turned into a foot pursuit before Shelbyville Police arrested the suspect early Saturday evening.
A Shelbyville officer saw Dallas Cline, 46, driving a car at the intersection of Van and Howard.  Cline is listed as a habitual traffic violator  - life.  The officer turned to initiate a traffic stop in the 400 block of Howard Street.  Cline pulled over before the officer activated his emergency lights.  However, Cline sat with the vehicle in gear and when the officer started to get out of his car he accelerated westbound on Howard Street.

Shelbyville Police report that Cline drove the suspect vehicle at a very high rate of speed recklessly westbound on Howard St. and ran through the stop sign at Howard and Noble without stopping. Cline attempted to turn northbound onto Center St. from Howard St. where his vehicle slid into the northwest corner of the intersection striking the curb causing damage to his vehicle.
Cline continued northbound on Center St. at an extremely high rate of speed where he ran the stop signs at Center St. and Locust St., Center St. and South St., and Center St. and Hendricks St.
Cline turned eastbound on Hendricks St. and continued at a high rate of speed.  Cline ran the stop sign at Hendricks St. and Noble St. as well as the stop sign at the railroad tracks on Hendricks St.
Cline turned eastbound on E. Broadway St. from Hendricks St. where he continued at a high rate of speed until pulling into the parking lot of Walgreens. Police report Cline quickly bailed from his vehicle and ran on foot northbound down the hill into the area of the 700 block of E. Jackson St.
Units chased Cline on foot to where he ran into a residence at the intersection of East and Jackson.  A perimeter was set up on the residence.  The resident of the home answered the front door and told officers she didn't know what was going on and that a man had entered her home and laid on a bed in the back bedroom.  At that time, Cline came to the door and was taken into custody.
Medics were called to treat and transport Cline for a leg injury he said happened during the pursuit.  Police report Cline was argumentative with an officer transporting him from the hospital to the jail.  He became angry, yelled and pulled his hands away from the officer who was attempting to handcuff him.
Police report that a bag of meth was found lying on the floor of the bedroom.
Cline is being charged with operating a vehicle while HTV life, fleeing law enforcement with a vehicle, fleeing law enforcement, possession of meth and leaving the scene of an accident.