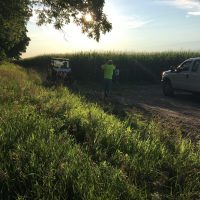 The name of the pilot that died in the Friday evening helicopter crash has been identified as Kerry D Lee, 52 of Mooresville.
No further information to be released at this time from the Shelby County Sheriff's Department.

A fatal helicopter crash is this under investigation in Shelby County.
The helicopter went down along a tree line near 750 East and 800 North early Friday evening.  The helicopter was a crop duster.
Lee was the only occupant in the crash.
The area has been secured by Indiana State Police and local authorities.  The FAA will come to the scene to investigate.