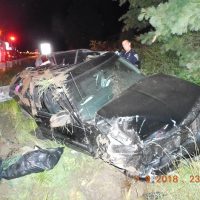 A Columbus woman was hurt Monday in a one-car construction zone accident.
Just before midnight, Bartholomew County Sheriff's deputies responded to a crash on I-65 near the 59.5 mile marker. The driver, identified as Angel Tucker, of Columbus, was lying near the vehicle which was in a ditch on the east side of the roadway.

Tucker said she was driving northbound when a semi came into her lane. As she attempted to avoid the semi, she hit the end of the guardrail and rolled into the ditch. Tucker said she crawled out the passenger side window.
She was transported to Columbus Regional Hospital.
Major Chris Lane of the Bartholomew County Sheriff's Office asks motorists to pay special attention while driving in/around construction zones.
"Deputies have responded to multiple crashes in/around I65 construction zones – including a couple last night."
"Please slow down in construction zones and proceed with caution whenever signs of road work are present.  Our highway workers' safety, and our safety, depends on how well we drive in these areas,"said Major Lane.
Statistics show it takes just one minute more to travel through a two-mile work zone at 45 mph instead of 65 mph. Speeding and aggressive driving is a major cause of work zone crashes.
"Construction workers on SR 46 have also contacted our office about speeding and aggressive driving in/around that construction zone as well.  Please slowdown – make sure you are safe and make sure workers return home safely to their families."