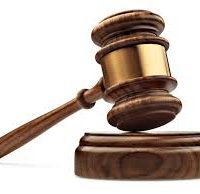 The Democrat candidate for Shelby County Circuit Court Judge has announced that he will withdraw his candidacy.
Shelbyville attorney Mark McNeely explained the reasons for the decision on GIANT fm News and in the written statement below:

McNeely was to face Republican primary winner Trent Meltzer in the November general election.
McNeely's written statement:
I have decided to withdraw my candidacy in the race for circuit court judge immediately.
Some events that affect my practice and my family have to take a priority over my personal desires to run for judge.
These events would adversely affect my ability to represent my current clients in the manner in which I've followed for the last forty years of my practice.
It was brought to my attention last week that the deadline for withdrawing candidacy is July 16.  That deadline does not allow enough time for me to preserve my clients interests and complete their cases to which I've already committed.
I want to thank Bob Williams and the Democrat party, Jack Tandy, my supporters, and others who encouraged me to run for this office.  Their faith and trust in me will be remembered.